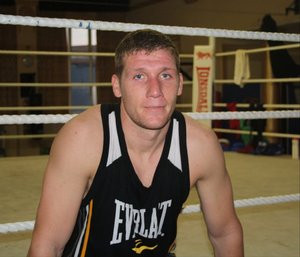 Stuart Brookes

By Andrew Wake: Unbeaten middleweight Stuart Brookes is determined to win the British title and dedicate it to the memory of his brother Scott.

The Mexborough-born brothers set off on their fistic journey together as children and both had bright futures ahead of them until tragedy struck in 2008 when Scott died, aged just 20, in a road accident.

Naturally, Stuart took time away from the sport to mourn his sibling's passing but now, after an absence of more than three years, he's keen to return to action and win that coveted Lonsdale belt the pair of them used to enthuse over when talking about their hopes and aspirations.

"I've got my eye on that British title. If I can win that, even if I don't go on to do anything else in boxing, I'll be happy," Brookes, 11 – 0 (3 KOs), told SecondsOut.

"Without sounding cruel, what's happened has made me more hungry. I want to do it not just for me, but also for Scott. I want to try and finish off what me and Scott started when we were kids.

"Eric Walker, my old amateur trainer, also passed away recently so I'd like to dedicate it to him as well."

"In the three years I was away I wanted to box but I knew my head wasn't right for it. I've been in a dark place for a long time and I needed to sort things out with my family before I could box again.

"But my family is happy now, I'm happy, I've settled with my girlfriend and had a baby and got a house. I just feel more ready to get back to it now."

Brookes' story has eerie similarities to that of Darren Barker, who lost his younger brother Gary in 2006 and vowed to win titles in his honour. This weekend he challenges middleweight great Sergio Martinez in Atlantic City.

"It's an inspiration to look at what he's done," Stuart stated. "He's gone on to fight for a world title now and I could be in the same position. I wish him all the best.

"When you've been through things like that you don't want to be back in training and punishing yourself so he's done well to come through it and I can relate to that."

Brookes has teamed up with South Yorkshire training duo Dave Hulley and Stefy Bull for his return to the ring in November and sees them as the perfect pair to guide him to the top, like they have British, European and Commonwealth bantamweight champion Jamie McDonnell.

"I've known Stefy and Dave for a long time. When I was 15 I used to do a bit of sparring with Stefy and he used to give me black eyes (laughs) and now he's training me.

"They've got a good set up and I feel settled. The gym is buzzing all the time and this is the place for me to bounce back.

"I think my first fight will be the hardest but once I've shaken the cobwebs off, I'll be at home again."

He added: "I won the British Masters title and boxed in Las Vegas. They were good times and I want them times back. It's been three years and it's time to start again."