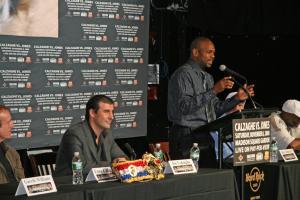 Calzaghe & Jones trade verbal jabs

By Clive Bernath: It was very interesting to read that both Joe Calzaghe and Roy Jones Jnr believe they have made a stand for all boxers by independently co promoting their November 8 super fight at Madison Square Garden In New York.

Of course I can understand why Calzaghe and Jones have reached that conclusion, especially as the fight was apparently negotiated and agreed within 10 minutes over a cup of coffee. That makes perfect business sense and not a middle man in sight to complicate matters.

Speaking to Walesonline.co.uk Calzaghe said: "We are promoting this fight ourselves and making a stand for the fighters.

"I'm proud to be part of it. This is the easiest fight I have ever had to put together and you know why, because I am a free agent.

"At the end of the day this was sorted with a phone call. I said, 'Roy are we going to meet in London.'

"He came over, we had a coffee and I asked him, 'Are we going to fight?' He said, 'Yeah we are going to fight.' And, bang, it's sorted. The deal was done in 10 minutes.

"It just goes to show that you don't need a promoter. It's liberating to see a Calzaghe Promotions banner.

"I feel free and unshackled from the chains."

As I mentioned I can perfectly understand both boxers reasoning but for Calzaghe to say 'I feel free and unshackled from the chains,' I believe is a touch uncalled for.

It does of course go without saying that Calzaghe's undefeated record of 45 straight wins,21 world title defencesand victories over Jeff Lacy.Mikkel Kessler and Bernard Hopkins contributed to his now high profile existance. And it was him that shed blood,sweat and tears participating in the hardest sport of all but lets not forget it was long time promoter Frank Warren that invested heavily both in his time and money creating the brand that is now Joe Calzaghe. Put another way, if promoter Frank Warren had not been involved in his career would Joe's profile be high enough today to warrant a big money fight with Jones?

Warren and Calzaghe proved to be a very successful partnership as too was Warren/Hatton and Warren.Hamed. All three decided to severe their ties with Warren towards the latter part of their career and that's fine but Warren was more than instrumental in guiding them to a successful and financially secure career and future. And that should not be overlooked.

September 22, 2008