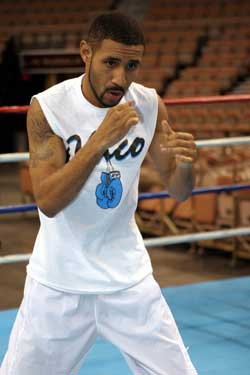 pic SHO/Casino

By Ant Evans: Whatever happens in the Thomas & Mack Center, Las Vegas, Saturday night Diego Corrales has already done more than enough in his 40-3 (33KOs) career be remembered for being in great fights. But the 28-year-old lightweight needs to defeat arch nemesis Jose Luis Castillo in their rubber match in order to ensure he is remembered as a 'great fighter'.

Corrales's WBC lightweight title will be on the line but the legitimacy of that title was diminished when Castillo knocked Corrales cold in the fourth round of their return bout last October. Infamously, Castillo failed to make the 135lbs weight limit (and, with good reason, some suspect he never even intended to) and therefore Corrales kept his title despite getting blasted to defeat by a murderous left hook.

But the real championship the two Hispanic warriors will fight tooth and claw for this weekend isn't symbolised by an oversized green plastic and metal belt; it is an invisible championship which will be carried around in the winner's heart and mind forever. Corrales and Castillo are fighting for the championship of each other.

The warriors are one KO a piece, with Corrales winning what can realistically be called 'the best fight ever' in May 2005 before losing the return five months later. And yet Castillo is a 'heavy' favourite (excuse the pun) going into this third and final fight.

Fight No.3 was originally scheduled to take place February 4 but Corrales was forced to postpone because of injury. While 'Chico' recuperated, Castillo fought for 12 rounds against Rolando Reyes. Opinion is split as to which fighter gained the advantage: Corrales who got to rest up but will now be coming off both a KO loss and a nine-month lay off, or Castillo, who kept active - and at the weight - but has now barely been out of training camp since the summer of 2004.

"You know what, it is hard to say who has the advantage," Corrales told SecondsOut. "I'm coming off a nine month lay-off but I was coming off another nine month lay-off going into the first fight and I won that by KO. All I know is that I feel great. I got a lot of rest and no matter what you say, my body needed rest. I feel like I have the advantage, not him. He won the last night but we both went through the same fires in our two fights and he didn't get to rejuvenate his body like I have."

Castillo says the marking time fight was of great use, keeping him near the 135lbs fighting weight which he admits is a real struggle to squeeze his frame into.

But Corrales isn't convinced, saying: "Castillo didn't look good, and he would have had to go back to the gym in late February at the latest, with just a few weeks off. I went back into the gym fully rested and I was actually looking forward to it again. I doubt Castillo was when he had to go back to camp."

And it seems the well-rested Corrales has hit the gym with the impact of an extinction level event meteorite. When Corrales says he's been getting 'real work' in the gym, believe him. Trainer Joe Goossen has had his lightweight champ sparring with just about the best gym rats in the world.

Corrales confirmed: "I've had awesome sparring. I've been sparring with Joan Guzman, who is a another Castillo, it is unbelievable just how closely he moves and fights like Castillo. That work with Guzman has been just awesome preparation. I've also been sparring with Mike Anchondo and some other top, top guys. Real work, like I said!

"And my weight is perfect, I feel perfect."

Both the two previous fights were tinged with controversy. In the celebrated first bout, Corrales seemed to buy himself extra time to recover from two hurtful tenth round knockouts by spitting out his mouthpiece. His head cleared, Corrales won the fight with a thrilling last gasp assault.

The came the weight-gate of the second fight, where Castillo came nowhere near the weight limit last October and one of his trainers even played a little 'footsy' with the scales in an attempt to hide the fact that Castillo was nearly four pounds overweight.

Few would have blamed Corrales, who has sapped his strength to make 135lbs while his opponent did not., for walking away from the bout. But he fought on and was KO'd by an opponent who, physically, appear a league above a suddenly outgunned Corrales.

Upon reflection, Corrales believes his warrior sprit left him venerable to a deliberate stroke by Team Castillo.

He said: "To an extend, I feel they took advantage of my mentality to fight. They knew I wasn't going to walk away from any fight, regardless. But I don't regret fighting. I didn't have a choice, I feel. Thousands of fans had flown into Vegas for the fight and were really looking forward to it. Yeah, they'd get their ticket money back but would they get their plane ticket money back? No. Would they get their hotel costs and other expenses? No. Nearly 20,000 people, boxing fans who pay my wages, would be really out of pocket. I didn't want that so I went on and fought."

However, Corrales has made it clear from the second he inked his name on the rubber match contract that he won't allow Castillo any similar weight advantage again.

He confirmed: "Oh, yeah, he makes lightweight or I am walking out the MGM right then and going home to watch TV with my wife. I lost respect for him and I've been wondering since (October) whether he actually made weight for the first fight. Has he ever made weight? It looked like everyone (in Castillo's camp) knew what they were doing. What he and his people did was so bad for the sport, boxing deserves better than that.

"But, in the same breath, Castillo landed a hell of a shot to stop me so I can't take nothing from that."

So, we have this third fight, eagerly anticipated but even amongst the most bloodthirsty of boxing fans, that anticipation has a kernel of caution, even foreboding. Goossen said immediately after the first epic of human endurance that it would be 'inhumane' to ask either man to face the other again and, indeed, there is an uneasy feeling that three Corrales v Castillo collisions in one year is too much.

There have been other beautifully brutal trilogies in boxing, yes, but few have been played out within the compass of one solitary year.

Bowe v Holyfield spanned three years (1992, 1993 and then 1995), Leonard v Duran nine years (1980, 1980 and then 1989), Ali v Frazier four years (1972, 1974, 1975), and even Zale v Graciano - despite fighting in an era when a fortnight was considered a sabbatical verging on laziness between fights - had their trilogy span three years (1946, 1947 and finally 1948).

"The thing is, we know how the lessen the impact on our bodies," Corrales attempts, rather unconvincingly. "But regardless, no matter what, even if I have knocked a couple of years (off my career) in these fights I still believe these fight have done more for me than any other three fights I could have had instead. Time will tell, but I think both of us have achieved something special. After this fight, we won't face each other again but I think this rivalry, this series, will be remembered."