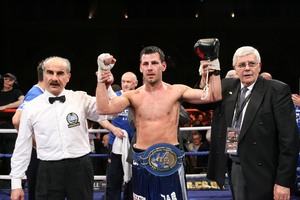 By Tom Gray: Darren Barker wants to secure a world title fight in 2012 and fulfill his childhood ambition. With that being said the current domestic scene conjures up memories of a previous era that is sorely missed and that fact is not lost on the popular London middleweight.

When Michael Watson challenged Nigel Benn, in May of 1989, the curtain rose on the first of an epic series of middleweight bouts that would captivate UK fight fans. Over the next few years Chris Eubank and Steve Collins would complete a four way rivalry that oozed excitement and dynamic action. This quintessential quartet has since been defined by their respective collisions and the domestic scene at 160lbs has seen nothing like it since.

Until now.

Darren Barker, Matthew Macklin, Martin Murray and Andy Lee each reside at 160lbs and are proven world class. Barker took his game to another level in a gallant losing effort to the great Sergio Martinez, while Macklin and Murray were both extremely unlucky not to have dethroned Felix Sturm in Germany this year. Andy Lee may be on the outside looking in but only time separates the quick Irish southpaw from his chance at glory and Murray could very well be on his dance card for 2012.



"Andy Lee vs. Martin Murray would be a very interesting fight and one that I would have an eye on" states Barker as he analyses the field. "It must be very frustrating for Andy because he's been out there (in the United States) for a few years now and he still hasn't secured a world title shot. He took a step in the right direction, by avenging his defeat to Brian Vera, so he's doing something right and definitely belongs in the mix with the rest of us."

Barker, Macklin, Murray and Lee are as classy outside of the ring as they are in it but none of them possess the bombastic personality of a Benn or Eubank in their heyday. That being said there does seem to be genuine tension between Barker and at least one of his domestic rivals; "If I had to pick a fight then it would be Macklin because he's sitting at number one in the division" says Barker abruptly. "It's been on and off a few times and I think both of us need to put this one to bed."

Barker continues; "We both believe we can win the fight and I wouldn't overlook him domestically or if it was for a world title, which I think it deserves to be. I believe he's up against it, should he fight Martinez but you never know what can happen. Macklin is a guy I would love to get in the ring with, he's the best of the bunch but I'm better and it's up to me to prove that."

The best fighting the best is what boxing has always needed - home and away. Barker, Macklin, Murray and Lee have the chance to light a fire under the sport, which should be encouraged, as it could be a long time before we have such talent in the same weight class again. Let's hope that this new group can come close to replicating the nineties, when domestic bouts were just as exciting as anything at world level.

"That's the era I grew up in" reminisced Barker. "I watched Benn vs. Collins vs. Eubank vs. Watson. It's great to be part of such a strong domestic scene and I pray that these fights come off because it would be such a waste if none of us get it on. These are fights that I want to be involved in and I'm proud that my name is being thrown around, it shows that all this hard work is worthwhile."

Please follow Tom Gray on https://twitter.com/#!/tgraysecondsout

December 22, 2011