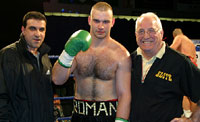 pic by Mr Will

By Clive Bernath: Jim Evans the co manager of undefeated heavyweight Roman Greenberg has defended his decision not to allow his talented and hugely marketable 22 year-old prospect to face British and Commonwealth heavyweight champion Matt Skelton.

Frank Warren, the promoter of Skelton, last week released a statement ridiculing the Russian born Israeli's other co-manager Robert Waterman for turning down the fight in favour of 'heading to America for two non-descript fights'.

Rather predictably Warren again chose to take a pop at Greenberg and Waterman in his weekly boxing column in the News of the World (Jan 16) Sunday newspaper, prompting Evans to call SecondsOut and put the record straight once and for all.

The highly respected and experienced Evans said: " Sports Network faxed me an offer for Roman Greenberg to box Matt Skelton at Wembley on February 26. We had to decline the offer as Roman is contracted to box on January 28 in New York followed by a second contest in Las Vegas on March 12.

"I, as Roman's trainer and co-manager, accept full responsibility for his career and see no mileage at present in boxing the British Champion. Supposing Roman beat him - where do we go from there? He is only 22 years old with time on his side.

I am not prepared to take Roman down that road at this stage -what's the rush?

"Frank, I think, is being a bit mischievous - Roman is not running scared. His career this year is mapped out with bouts abroad. Matt Skelton does not need Roman to raise his profile, he needs Audley Harrison. If they do meet we may be ready to box the winner at a later date. Anyway Frank, thanks for the free publicity."

No doubt Matt Skelton vs Roman Greenberg would be an intriguing domestic heavyweight clash, and boy do we need some decent domestic match ups this year. But I tend to agree with the Greenberg camp on this one. Greenberg is a very talented young heavyweight in a very poor worldwide division. He is being brought along at a steady sensible pace by his handlers, and gaining valuable experience against the right fighters at the right time. And just as importantly he is fast building up a huge fan base in the US, especially in New York and Miami where he has fought many times. So why risk it against a mature and very physically strong but crude 37 year-old like Skelton?

I would not mind betting that Warren would not risk this type of fight so soon in a career of one so young if the boot was on the other foot. To prove my point, in the opening paragraph of Warren's NOTW column last weekend he said: 'Sometimes promoters get stick for not putting on big fights - but you have to make the right matches at the right time and it is not always our fault.'

Of course he is right but in his column dated September 19, 2004 entitled 'Haye gets cut down to size' Warren, in recounting the inexperienced David Haye's defeat to the seasoned and more mature Carl Thomson, contradicted himself by stating: 'how important it was 'to match young prospects properly' and 'There is always criticism that fighters get over protected but better that than ruining a career before it has even started'.

Skelton as I said is a mature man of 37, very strong, awkward and effective while Greenberg whilst having a lightening fast accurate jab that slowly breaks you down, is more of a boxer. I for one believe that Greenberg's lateral movement, youth and stiff jab would win the day against the limited man from Bedford but it would be tough. The type of fight that could take a lot out of a fighter so young. Therefore I personally feel the wrong fight at the wrong time.

What do you think? Would Skelton's raw natural strength and relentless pursuit of his pray be enough to break the young pretender down or would Greenberg's elusive lightening quick hands and superior ring craft take him to victory?

Or is Greenberg's team right to steer their man clear of Skelton at this stage of his career?

Please email your thoughts to clivetumco@hotmail.com

January 18, 2005.