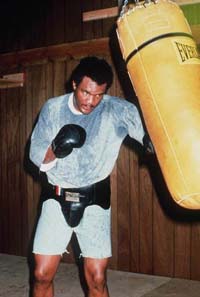 By Anthony Evans
Twenty-nine years ago George Foreman blitzed world heavyweight champion and fellow legend Joe Frazier in two of the most one-sided and chilling displays of human firepower in the history of fighting. A generation later, the force that the Marshall, Texas born colossus could generate and throw at his fellow man is probably still to be equalled.

After winning the 1968 Mexico City Olympic gold medal (where, in stark contrast to his track and field team-mates Tommy Smith and John Carlos, he patriotically waved the American flag) Foreman's almost inhuman power allowed him to blast through contenders like George Chuvalo and into striking distance of the sport's ultimate prize within three and a half years of turning professional.

Still, the moody Texan was not thought to be the match of the Philadelphian slugger Frazier. Smokin' Joe had established himself as the world's greatest heavyweight since winning Olympic gold himself four years before Foreman. After Muhammad Ali's enforced exile, Frazier knocked out Buster Mathis to be awarded the vacant title as recognised by the powerful New York Commission and then destroyed WBA rival Jimmy Ellis to become undisputed champion in February 1970.

Most importantly, though, Frazier knocked down and became the first man to defeat Ali when the former champion was finally allowed to box once more. That fact alone made Frazier the favourite to retain his title in his tenth defence of his championship.

After reinventing himself as a cuddly consumer of milk, cookies and hamburgers, Foreman would claim he was terrified of the champion - especially the Philadelphian's vaulted left hook - as he walked to the ring in Kingston, Jamaica in front of just north of 36,000 fans. He waxed lyrical about his knees knocking during the referee Arthur Mercante's final instructions; but I suspect this is all part of his new act.

The 24-year-old version of Foreman was not afraid of anyone. And why should he have been? He was already 37-0 and only three opponents - Roberto Davila, Levi Forte and Gregorio Peralta - had been able to sufficiently resist his power-punches to last the distance. The cockiness the stoic, brooding and huge Texan exuded in Zaire 19 months later did not take route overnight, Foreman had been born with an attitude and, as he destroyed one opponent after an other, his self-assuredness became deeply entrenched.

Dwarfing the champion, Foreman attacked Frazier with borderline glee. Until his incredible second career (1987-1997) Foreman fought but one way: straight ahead, and all cannons blazing like an ironclad. No thought was given to stamina, or to the sustainability of his savagery, as Foreman swept towards the champion with the irresistibility of a raging hurricane.

The confident champion came out to meet him, bobbing and weaving in a doomed attempt to avoid the worst. Within moments they looked as though they were about to clinch, but Frazier was thrown backwards like an unwanted toy. Foreman was vastly more powerful.

A wet thud to Frazier's gut was the first telling punch landed by the challenger, but Frazier continued to advance - though a little more cautiously than before. He was thrown backwards again, and was now getting picked off with ominous ease by the long armed powerhouse. It began to dawn on ringsiders that even Foreman's jabs were rocking the champion to his shins.

Smokin' Joe was shot down by a right uppercut at the two minute mark. Foreman let the moment slip him by in his excitement to finish the champion: missing several atom bomb hooks by literally several feet. But it mattered little; the comparatively puny Frazier would be hurt each and every time his challenger connected.

In a terrible crisis, Joe Frazier turned to his most trustworthy ally: his left hook. There is something really quite sad to watch the tape of Smokin Joe again and again Joe employ one of the most fabled shots in heavyweight history with such desperation.

Frazier scrambled off the canvas again. He had been knocked on his ass by another uppercut, thrown in close so he could not see it. Once on his feet, he jigged on the spot, unable to control his legs. From this point on the bout would have been stopped if it had been fought today.

There were ten seconds to go but time enough for Foreman to land a few clipping blows to send the champion down for the third time in the opening round.

The referee peered long and hard into the champion's corner during the interval.

There was no way back for Joe Frazier, but he tried anyway to establish his jab and match his Olympic gold winning skills with the younger man's. But within moments he was forced back again and, while trying to escape from Foreman's won corner, was hit on the back of the head and dropped once more.

Technically it was a foul but the referee counted. Braver than brave Frazier again climbed an upright position - and even clapped his hands as if to say keep it coming, George.

George did, and Frazier was put down for the fifth time. With the champion now lost at sea, Foreman cemented his legend as the heaviest punching fighter of all time by literally lifting Joe Frazier's limp body into the night air with an uppercut that ended the fight.

Foreman was exalted as a monster, Sonny Liston to the power of a hundred. After dispatching Jose Roman and Kenny Norton with equally brutal efficiency, Foreman's omnipotence was regarded a fact of life within the universe of the squared cycle. Self-confident well beyond the exit marked arrogance, the champion never dared to dream that if a fighter - like Muhammad Ali for example - could trick his way past the first five rounds that the potency of his punchers would dissolve like snow.

But that night three decades ago belonged to George Foreman; and yet the manner in which he would regain the world title in 1994 eclipses even this awesome achievement.

As for Frazier, he would challenge for the heavyweight championship of the world once again - and fight a rematch with Foreman - in two further Great Fights.

George Foreman w ko 2 Joe Frazier. Jan 22, 1973. Kingston, Jamaica. World heavyweight title.