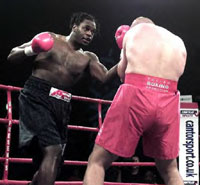 By Clive Bernath: It never ceases to amaze me that when Britain produces a genuine heavyweight title contender, that certain members of the British press and indeed a good percentage of those within the sport, take it upon themselves to act as judge and jury as to how that particular fighter should conduct their path to the top of the greatest prize sport.

Both Frank Bruno and Lennox Lewis suffered that fate in the middle 1980's and 90's, and now our Olympic Gold Medallist from the 2000 Sydney Games, Audley Harrison is receiving the same treatment.

From the moment Harrison embarked on his journey to professional glory in May 2001 with a first round destruction of American private eye Michael Middleton, our Audley has been slated from pillar to post for one reason or another. And to be fair he has brought a certain amount of that criticism on himself but most of it has been instigated by certain factions of the press and a number of heavy hitters within the sport that obviously had their noses put out of joint because he refused to sign with them.

Whilst I was in the minority that thought, and still think Audley is ultimately doing the right thing by going on his own I also agree with those aforementioned detractors that certain decisions he has made have been wrong. We have heard them all by now,' The only thing I don't agree with is him being top of the bill' and 'he should not be picking his own opponents'. I agree with both those arguments but what we must understand is that it was his paymasters the BBC that afforded him that privilege when they allowed him to basically write his own contract following his triumph down under. That 10 fight, two year deal is now history and while Audley is still with the BBC you can bet your life that the new agreement is littered with far more stipulations of what is expected of him in the future. But that is another story.

Last Thursday Harrison announced that his 15th professional fight will be for the WBF heavyweight title against the 'Dutch Sonny Liston' Richel Hersisia at the Wembley Arena on March 20. Again those certain detractors from our national press rubbished Audley's opponent. Ok the title is a joke and those of us involved in the sport know that the 29 year-old from Den Haag in Holland is no more the heavyweight champion of the world than I am. But he is a genuine test for Harrison at this stage of his career. Hersisia, like Harrison is unbeaten and can punch a bit, having stopped 16 of his 21 opponents inside the distance. Agreed Hersisia has not fought anyone of note and has been dumped on the seat of his pants a couple of times. But he is no worse a foe than Bruno or Lewis faced at the same stage of their careers.

And before all you anoraks out there in cyber space start bombarding me with emails, yes I know Lewis won the European title in his 14th fight and the British in his 15th but Bruno did not fight for a title of any description until his 27th fight. And when you compare Hersisia with Lewis' European title opponent Jean Chanet, who had a record of 24-10 going into their fight in October 1990 and Bruno's foe, Anders Eklund, who was 11-2-1, then Hersisia is certainly no worse. As I say forget the title this is an ok fight.

Harrison said last week that he would have preferred to go the British and Commonwealth title route but politics prevents that from happening as new champion Michael Sprott is with Sports Network, who has a contract with Sky whilst Audley is with the BBC. Harrison could wait until the mandatory comes up but that is not until July and why should he challenge Sprott as a voluntary? By doing that he would almost certainly have to sign away options on future fights, which he does not want or need to do.

From a personal point of view I would have liked to see Harrison with either Sprott or the man he conquered to win the titles two weeks ago, Danny Williams but that will not happen and Hersisia is the next best thing. Hersisia is ranked four places above Harrison in the European rankings at No.11; a win on March 20 will set Harrison up nicely for a crack at Turkish champion Sinan Samil Sam, possibly by the end of the year. Samil Sam holds a win over Harrison in the amateurs. A win there would elevate him into the world top 10, which is where he needs to be by at least early 2005.

As far as domestic opposition goes Harrison would be heavily favoured to beat any of them on current form, Lennox Lewis aside of course. His incredible physical size, 6ft 5 and 18st would see to that. We must also not forget that for such a big man, he moves well and possesses decent hand speed. The ability to go 12 hard rounds is a worry but I suspect that is the only reason he has not challenged for a title sooner.

Lets presume that Harrison does challenge and win the European title by the end of 2004, who else is out there at world level?

If you scan the independent heavyweight world top 20 for example, only one of the 20 is under 30 years old, at least eight are past their sell by date, or at least will be by the end of 2004 and seven are on the small side and thus may find it difficult to deal with Audley sheer physical size. Roy Jones, the WBA king and IBF titleholder Chris Byrd are also small heavyweights along with James Toney. Whilst the three aforementioned are excellent boxers and champions in their own right, all would be giving away far too much height and weight. And of course current WBC and undisputed heavyweight king Lennox Lewis will be safely retired and curled up in front of the fire with his pipe and slippers by mid 2005.

For me that only leaves the giant Klitschko brothers Wladimir and Vitali. Both can match Harrison for size and power. And both pose a very real threat to 'A Force' providing the Londoner eventually delivers on his promise.

We must also understand that the standard of the heavyweight division is at its lowest for some years, but whichever way you look at the situation Audley's way could end up being the right way.

February 3, 2004.