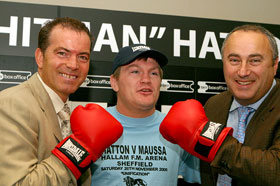 Hobson (left) and Waterman (r) delivered the fight Hatton wanted (by Mr Will)

By Ant Evans: Since deciding to leave long-time promoter Frank Warren, Ricky Hatton has heard more talk of contracts and court action than the cast of 'Ally McBeal' and while admitting it is a distraction as he begins his second week of training for his November 26 unification bout with Carlos Maussa, the reigning IBF champion also concedes that he is paying much more mind to his fight with the difficult WBA champion than any ensuing legal battle.

"Ricky's never been interested in the business side of things," father/manager Ray Hatton told SecondsOut. "All Richard is interested in is boxing. Even when I could get him to come along to meetings he'd sit there and text his mates the whole time and wouldn't pay a bit of attention. After some meetings I've turned to him and said 'Do you want to know what that means?' and he's just said 'No, you deal with that, dad, I just want to fight'."

The latest from Warren's side of British boxing's most bitter row is that he has produced signed paper work, which he believes proves Hatton owes him three fights, and expects to go to court sometime next week.

Warren said: "It's totally out of order. It's about Ricky and Ray trying to grab as much money as possible."

Speaking on Monday, Hatton said: "What's good for the goose is good for the gander. Like my dad said, Frank moved from ITV to Sky (in 1995) and then has just moved from Sky back to ITV, presumably because he got more money. He had every right to do that and so do I.

"My contract with Frank run out and considerably better deals were was put to me, and not just in terms of money. I can't go too much into it but there were things beyond money which we weren't happy with with Frank. Things that are very disappointing to me. Just little things like he's been saying he's been trying to call me but can't get hold of me. My answering machine is on 24/7 and I'm not heard a single message from him.

"The whole package offered by Dennis Hobson was better and Dennis could deliver the fight I wanted where no-one else could."

The Hitman added: "Everyone else we spoke to were talking 'Ifs'. 'If this fight can be made this will happen', 'If he wins this fight this could happen' 'If you get this fight'. Dennis was the only one to say 'I can make the Maussa fight and here's the whole package in black and white'."

"It is disappointing in some ways, because I wanted to finish my career with the same people I started with. But Frank will probably still be promoting in 10 years time, I won't be boxing in 10 years time. The next punch I take could end my career... Frank's never taken a punch in his life."

Leaving the legalese to the lawyers (who get paid to write about it, I get paid to write about boxing), I wondered why, out of all the colourful and meaningful fights out there for him, Hatton wanted Maussa most of all.

"I actually wanted Vivian Harris, who Maussa beat, next," Hatton began. "Vivian Harris had a big mouth and was more interested in fighting me, fighting Floyd Mayweather, and he took his eye off the ball and get knocked out. And he looked quite silly, too, and I don't want to look silly so I'll be preparing for this fight just as hard as I did against Tszyu.

"After beating Kostya Tszyu most people recognise me as No.1 but I've still only got one of the major belts and there are three more I want to go for. Some people have said I was entitled to an easy first defence after a demanding fight like Tszyu but I wasn't interested in that. I've always boxed better the better the opponent and after Tszyu I needed another world champion to get another top performance out of me. Against top fighters like Tszyu and Ben Tackie I've really performed but against other opponents I've maybe not looked as good. Not by my own standards.

"I don't want another opponent which will... I wouldn't say drag me down a level, but won't bring the best out of me.

"The biggest fight out there for me is (WBC champ) Floyd Mayweather, I've said that since I beat Tszyu. I think that fight will happen in a year so if that isn't happening next I want another champion."

And as WBO champion Miguel Cotto due to box, that leaves Maussa and his WBA title.

"Maussa is a big challenge for me. It's very dangerous. He's a world champion making his first defence just like me, he hits very hard and he takes a shot as well. Harris hit him with everything early on and Maussa just came through it. They are his main strengths. But I am confident I can get to him. He's a tall light welterweight and so I'll probably give the body shots a go (laughs).

"It will be very difficult and it will be very difficult to find sparring like him. He punches very unorthodox. I know think even he knows what punches he's throwing next so how is anyone else going to predict what he's doing? But I think the important thing is I've now got the experience to adapt my style once the fight has started and I can't wait to get in there and start working him out."

Lennox Lewis was stripped of his WBA title almost as soon as he unified his WBC belt with WBA/IBF champ Evander Holyfield in November 1999. And Naseem Hamed, despite defeating the champions of the WBO, IBF, WBA and WBC during his career, never once woke up as the undisputed featherweight champion. Hatton is realistic about holding all four major titles at the same time...

He said: "I know it is almost impossible to keep all the titles as undisputed champion but that's why it is important to take these fights when they can be made. If I beat all the major champions in this division then everyone will know I'm No.1. I think I am regarded as No.1 after beating Tszyu but taking other belts will help me stay there in the eyes of the fans. Dennis Hobson asked for 24 hours to make the fight, my dad gave him that, and he called back straight away and said it was done."