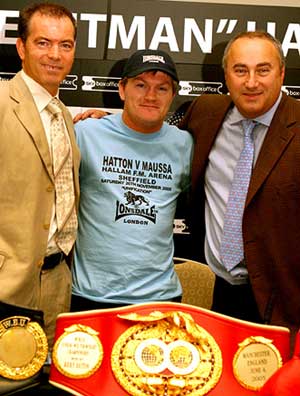 Hatton poses with Dennis Hobson and Robert Waterman (Mr Will)

By Clive Bernath: IBF light-welterweight champion Ricky Hatton will hold a press conference at 11am tomorrow (Sept 12) morning in the Commonwealth Suite at his beloved Manchester City football ground. The 26 year-old undefeated Manchester hero, who impressively ripped the world title from Australian legend Kostya Tszyu only three months ago, is expected to announce a promotional deal with Sheffield/London based promoters Fight Academy despite the impending legal proceedings issued by Hatton's long time promoter Frank Warren.

Hatton and his father/manager Ray Hatton is also expected to announce a unification title clash with Colombian WBA champion Carlos Maussa, at the Hallem Arena in Sheffield on November 26. For Hatton it will be the first time in his undefeated 39 fight career that he will not be promoted by Warren's Sports Network. It has been well documented publicly that Warren insists he still possesses an agreement to promote Hatton's next three fights while Ricky and his father Ray believe they are free agents to do business with whoever they wish. Regarding who is in the right will ultimately be decided by a court sometime in the not so distant future.

Both the Hatton's and Warren have stated their cases publicly to pretty much any media outlet that cares to listen, in what has now developed into a bitter feud that has to all intense and purpose, forever buried whatever remnants of a working relationship there was left between the two parties.

Lets forget the legal implications for the moment and the recent verbal sparring in the press. After all both Hatton and Warren, I assume, have made fantastic money for each other up to now. Lets look at the arguments for Hatton staying put with Warren and also the advantages Hatton can expect by deciding to go it alone.

Warren claims if Hatton stays with him he will pay Britain's most popular and well recognised boxer £1.5million to fight in November or December IN a non unification fight. Warren has also announced that he has secured an exclusive deal to promote shows at the Manchester 20,000 seater MEN Arena, the scene of Hatton's most famous triumphs. And of course there is the exclusive deal Warren has with terrestrial broadcaster ITV that can further catapult Hatton's fame to 'Bruno' type proportions.

In Hatton's defence he has been a professional now for eight years and why should he not go it alone if indeed he is a free agent? Many other top fighters have decided to promote themselves in the later part of their careers including Lennox Lewis, Oscar De La Hoya, Naseem Hamed and Roy Jones Jr to name but a few. All the aforementioned successfully continued their careers making more money in massive fights by negotiating with the television paymasters direct, than they otherwise would have. Yes they all lost but those bouts were in defining fights in the latter stages of their careers. Law of averages suggests that Hatton may taste defeat before he eventually retires as well but so what. He is in the big money league now defending a genuine world title against the world's best 10st fighters. No one needs to be told that boxing is as dangerous a sport as can be imagined. So no one can blame the popular Mancunian for wanting to maximise his earning potential at this crucial stage of his career.
September 11, 2005.