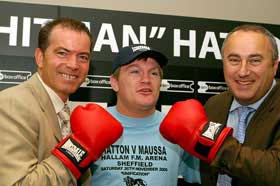 The new Team Hitman: Dennis Hobson, Ricky and Robert Waterman (Pic Mr Will)

By Clive Bernath: IBF light-welterweight champion Ricky Hatton will meet WBA titleholder Carlos Maussa from Colombia in a unification match at the Hallem FM Arena in Sheffield on November 26.

At a press conference today at Manchester City's football ground in Manchester Hatton's new promoter Dennis Hobson from Fight Academy made the announcement and also revealed the fight will be broadcast live on Sky Box Office.

Hatton, who impressively ripped the IBF title from world No.1 Kostya Tszyu three months ago with an 11th round retirement win, will start a firm favourite against the 33 year-old Colombian but Hatton himself is expecting a very tough battle.

"I saw him (Maussa) win the title against Vivian Harris and am expecting a very tough battle," insisted Hatton. He's gonna be very dangerous and tough, everyone thought Harris would win but he (Maussa) is awkward and difficult to read which makes him very dangerous . He beat a good fighter in Harris so he must have something."

Following such a tough battle winning the title against Tszyu, 'The Hitman' could have been forgiven for taking on a routine defence but to his credit he has always insisted that he wants to fight the very best available opponents.

"I wanted the unification fights and Dennis, all credit to him he delivered it right away." said Hatton. " I have always said that I want the big fights. If you look at the Tackie (Ben) fight and the Tszyu fights I perform better the better the opponent and I think I've proved that."

Hatton's well publicised and acrimonious split from long time promoter Frank Warren has been well documented over the last two weeks but Ricky does not expect any out of the ring distractions to effect his preparations for the Maussa fight. " No not at all," insisted Hatton. "My father (Ray Hatton) sorts out all the obstacles out of the ring and I deal the business inside the ring so no I'm just focusing on Maussa."

The 26 year-old undefeated champion also believes his business manager father together with Fight Academy's Dennis Hobson and Robert Waterman will be more than capable of delivering all the big fights including a clash with pound for pound king Floyd Mayweather Jr in late 2006.

" I have been very pleased with Dennis Hobson," said Hatton. " We spoke to many people about the prospect of working with them and Dennis delivered. He put his money where his mouth is and delivered the fight."

Fight Academy have gone from strength to strength over the last two years and with the likes of IBF light-heavyweight champion Clinton Woods, heavyweight prospect Roman Greenberg and cruiserweights Carl Thompson and David Haye in the stable, means Hatton's inclusion arguably makes them Britain's No.1 promoter.

" We have made very good progress over the last few years," insisted Hobson. " We have proved time and again that we can deliver the big fights. I have done it for Clinton (Woods) on many occasions and now we have delivered for Ricky as well. I had a meeting with Ray and he told me what he wanted. And I said give me twenty four hours and we'll see what we can do. Twenty four hours later we delivered the fight."

September 12, 2005.