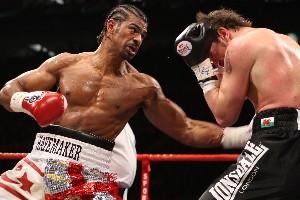 Haye unleashes a left hook to the body of Maccarinelli

By Clive Bernath: Love him or hate him you cannot but admire the honesty of would be heavyweight champion in waiting David Haye.

The 27 year-old former undisputed world cruiserweight champion has stepped up a division- arrogantly in some people's eyes- to claim he will rip through the 'big, slow and flabby heavyweights, and restore some much needed talent, glamour and prestige back into the sport's flagship division.

Speaking at a recent press conference ahead of his November 15 clash with seasoned fringe contender Monte 'Two Gunz' Barrett 'The Haymaker' said: "I've talked about big, slow and flabby heavyweights but this guy(Barrett) isn't - he comes into the ring in shape and he's hungry.

"He's got three knockout victories on the spin and he's going to test my chin at some stage in the first couple of rounds.

"When a couple of his guns bounce off my chin, how am I going to react? Some people think I'm going to fall on the floor and go to sleep, but I think I will come through it. I'm looking forward to seeing what happens when I get hit by a genuine heavyweight puncher.

"You can either take big shots or you can't. You can have all the skills and ability but if your punch resistance is not there than it is not there. But I'm sure I can do better at heavyweight than at cruiserweight.

It is true, many boxing writers, trainers, fans and promoters believe Haye's first serious test at heavyweight could end in tears, and with good reason. Concerns about the fragility of Haye's whiskers first surfaced when he was heavily floored by useful blown up light-heavyweight Lolenga Mock in September, 2003. Granted, the big punching Londoner rallied and eventually stopped the Danish based African but the seed was well and truly firmly planted right there and then.

To be fair it was only Haye's seventh pro fight and he did recover but he very nearly paid the price for giving the fans what they want to see-big punching non stop fight action. In the early days David always insisted on giving the fans value for money and that means, wearing his heart on his sleeve by punching it out in the centre of the ring with whoever dared trade with him. Indeed it was that same Gladiatorial mentality that cruelly and naively exposed him at the hands of Carl Thompson for the IBO cruiserweight title in September 2004.

Haye relentlessly pursued the former WBO titleholder from Manchester, relentlessly pounding Thompson from pillar to post with every punch in the book but Thompson weathered the storm and eventually broke a battered and exhausted Haye to submission in the fifth round.

Since then, to Haye's credit, he has regrouped, tightened his defence and waited more patiently before unleashing his trade mark heavy handed attacks. Those tactics have paid off as impressive wins over Jean Marc Mormeck(for the WBC/WBA cruiserweight titles) and Enzo Maccarinelli, have proved.

On the plus side Haye is now far more relaxed and patient, and his speed and power at cruiserweight is without question. But his chin still remains a concern, especially at heavyweight. The other possible concern regarding the 27 year-old Londoner is his ability to fight for 12 hard rounds against a seasoned heavyweight campaigner. Two fights that spring to mind where Haye's engine was tested were the eighth round win over Denmark's Lasse Johansen and the title winning fight against Mormeck. Yes, Haye triumphed on both occasions but there were times in both fights where the 'Haymaker' looked vulnerable.

As I said you cannot but admire the honesty of David Haye. He has talked the talk and openly admitted he has no idea how his chin will hold up against Barrett. That's exactly what makes Haye arguably the most exciting fighter in Britain today. On November 15 all questions will be answered and we will know whether or not David Haye is the future of the heavyweight division. I for one am looking forward to finding out.

October 7, 2008