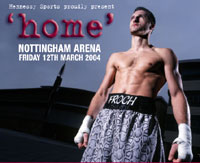 Carl Froch

The five men who will take the Pride of Wales´ Throne by Joe Queijo: Super-middleweight kingpin Joe Calzaghe may or may not be fighting on the 14 October. But it's very likely that the 34 year old injury prone Pride of Wales will not be around for too much longer. After nine years of Joe at the top of the 12stone (168lbs) division, who's going to take his place? Here we are going to look at five contenders who will could be figuring in big super-middleweight in the near future.

Librado Andrade 23-0 (17)
Style: Long armed Mexican puncher who prefers to fight on the inside. Likes to pound his opponent with short uppercuts and body shots. Is strong, aggressive with plenty of stamina.

Quality of Opposition: Good. Beat the undefeated Willie Stewart (21-0 at the time) in his 18th bout. Floored the dangerous Tito Mendoza (had previously kayoed future WBA champ Maselino Masoe) three times before winning on points. Travelled to Canada to stop Canada's former WBO champ in seven rounds in a World title eliminator. Fighting the well travelled Richard Grant in his next bout.

Future: Will definitely get a title shot but I'm not sure has the skills to beat the very elite. Is a handful for anyone with his power, body punching and non-stop attack but is hittable and will always have trouble with movers.


Allan Green 21-0 (15)
Style: Classy boxer with fast hands and good power especially in his left hook. Can box and bomb though naturally style is to box.

Quality of Opposition: Very Good. Beat two undefeated fighters in his first 9 wins before facing undefeated Canadian Conal MacPhee in his 13th bout. Dropped MacPhee three times for a two round win. Undefeated Jairo Codrington (9-0 9 kos) was his next big test. Jairo was knocked out cold in 18 seconds! Solid Donnie McCrary was dispatched in six though Green was surprisingly floored in the fourth. The Contender's Anthony Bonsante (had retired Tony "Torito" Ayala) was impressively destroyed in five rounds in his last bout.

Future: Was rumoured to have fought Calzaghe but average performance against McCrary torpedoed it. Also was going to fight Jeff Lacy but Lacy´s managerial problems have scuppered those plans. Green has a lot of potential. Is classy boxer who may have the skills and power to go all the way. Chin still in question after McCrary "accident". I think Green needs at least another year of seasoning but I think has the potential to become champion.

Lucian Bute 17-0 (15)

Style: Canadian southpaw boxer with powerful left hand. Accurate puncher with fast hands. Has shown power early and late.

Quality of Opposition: Excellent. Kayoed former World champion Dingaan Thobela in his ninth bout. Kayoed the once beaten Christian Cruz in 12. Stopped Dorian McCrary in four. Dominated the dangerous Kabary Salem (floored Calzaghe) for an eight round win. Destroyed Donnel Wiggins (gave Lacy a good fight) in two. Brutally stopped Jose Spearman in eight. Spearman would later hold Joey Spina to a draw. Most recently scored lopsided 12 round point wins over former Commonwealth champion Andre Thysee(beat David Starie) and big punching Loleng Mock(dropped reigning European Cruiserweight champion David Haye). Fighting big punching James Obede Toney next month.

Future: Should get past Toney and will probably fight for the title in about 12-18 months time. Grudge match with Andrade would be interesting. Chin hasn't been tested yet though the bigger Mock didn't hurt him over twelve rounds. Has the tools to reach the top.


Joey Spina 19-0-1 (14)

Style: Aggressive exciting slugger. Body puncher with solid power. Hittable and predictable. Good chin, big heart, strong with abundance of stamina.

Quality of Opposition: Average. Outpointed the faded former light-middleweight champion Carl Daniels. Stopped fragile fellow slugger Anwar Oshana in three. Struggled to a draw with Jose Spearman(kayoed by Bute and beaten by Brian Magee). Was being outboxed by slow but dangerous Jesse Brinkley (from Contender fame) for ten rounds before landing a body shot which stopped Brinkley in the eleventh for Joey's best win. Stopped the once beaten puncher Jay Pina (16 wins over nobodies) in four in last outing.

Future: Will definitely feature in some exciting bouts in the near future. Will struggle when he fights superior opposition. If protected could be steered towards a title shot though will have to improve significantly to triumph. Would be a pleasant surprise if he makes it all the way.



Carl Froch 19-0 (15)

Style: Britain's charismatic (some say big mouthed) top super-middleweight who has been chasing a match with Calzaghe for some time. Nice jab, powerful right hand and fast hands. Talented boxer but is hittable and sometimes loses concentration. Problems with hand injuries.

Quality of Opposition: Solid. Beat decent African Charles Adamu in his 12th bout for Commonwealth belt. Only man to stop Canada's Mark Woolnough (beat Jose Spearman and went the distance with Otis Grant). Stopped the solid Henry Porras in eight in the USA debut. Struggled to beat classy but fragile Brian Magee in eleven in his last bout. Has won eight title bouts.

Future: If you listen to Froch then he will be crowned champion in his next bout. Is a good puncher with excellent skills. He is far too easy to hit. Must be noted that hasn't faced a legitimate puncher yet which I think is very revealing. Needs to improve defence and focus if he wants to reach the top. I would be surprised if he becomes World champion.