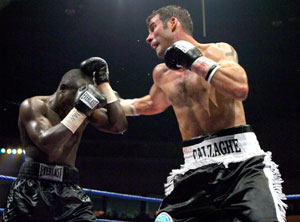 Evans Ashira: beaten with one hand (pic Mr Will)

By Ant Evans: Somehow a wretched, useless and utterly misleading phrase has become common currently whenever there is a debate as to the relative 'greatness' of a modern fighter; it has had and continues to have a deplorable affect on the quality of debate amongst boxing fans, writers and historians.

The dread truism is this: "career defining fight", and behind it is the sophomoric conception that somehow a single victory or performance is all that is required to transform a modern champion into an all time legend.

No, no, no, no! As my friend Glyn Leach of Boxing Monthly says only a career can 'define' a career but, somehow, this nonsensical ideology is used to justify such nonsense as attacks on Floyd Mayweather's career progression (no "defining fight", you see, despite Mayweather having beaten more fellow pound-for-pounders than any fighter in the last two decades)

And, this week, the same dogma was the support system behind lunatic claims that Joe Calzaghe (whose otherwise disappointing, stop/start career was apparently "defined" by his win over Jeff Lacy in March) could well be the best British fighter ever.

Joe Calzaghe is a very fine fighter, no question. But writing as a man who was penning articles championing the Welshman's world beating potential eight years ago (check old issues of BM or search the archives of this very site for evidence I'm not a Calzaghe-come-lately), proclaiming Calzaghe to be self-evidently superior in the history of British boxing is rank nonsense.

Best British fighter e-v-e-r? All because he beat Jeffrey from Florida? Yes, it seems so because no-one was calling Calzaghe the best active British fighter (much less the best EVER) before March 2006 and, let me be blunt, it is revisionist and ridiculous to claim Calzaghe's win over the powerful but inexperienced 'Left Hook' is even in the top five best wins for a British fighter.

As impressive as Calzaghe was in March, Ricky Hatton's win over Kostya Tszyu, Lennox Lewis's over Evander Holyfield (and others), Nigel Benn's win over Gerald McClellan, Lloyd Honeyghan's over Don Curry, Barry McGuigan over Eusebio Pedroza, Kirkland Laing's over Roberto Duran - and don't even mention the likes of Randy Turpin over Sugar Ray Robinson and even Bob Fitzsimmons over James J Corbett - were all much more impressive if only one has some perspective.

Fighters should be judged on what they achieved throughout there entire career. So, here, for the sake of offering some perspective, in reverse order, is bite-sized appraisal of Calzaghe's 20 world title fights thus far.

Key - By 'Opponent Grade' I mean how credible a threat Calzaghe's challenger was on a scale of A through to E (A being the best, E being a bum). Hindsight is a revealing thing, of course, so while I demoted Lacy down to a "B" rather than the "A" he was supposed to be before his listless effort in March, other opponents actually look better now than they did at the time Joe defeated them.

By 'Calzaghe Performance' I intend to give an indication as to the strength of performance Calzaghe gave on the night.

While I believe that it is possible for a fighter to perform so well in a bout that he is expected to win he still emerges with an enhanced reputation (think Oscar De La Hoya's win over Ricardo Mayorga in May) I don't think it is right to award an "A" for a flawless performance against as hapless an opponent as Tocker Pudwill, for example. Therefore, I made it a rule not to have vast variances between the grade for the opponent and performance.

Here we go...

w pts 12 Sakio Bika, October 2006
Calzaghe yet again lost momentum after a big win, pulling out for the third time v Glen Johnson in June... the big return post Lacy was always going to be a let down, though... hard fight to apprise... glass half full verdict: Calzaghe out-toughed a tough man who came to fight... half empty verdict: Joe was awkward against an opponent with little skill and look nothing like a pound-for-pound talent...
Opponent Grade: C
Calzaghe Performance: C

w pts 12 Jeff Lacy, March 2006
Having already scrubbed from the Nov 5 date Calzaghe again wanted out of the fight but Warren and father/trainer Enzo convinced Joe to fight on regardless of a niggling hand injury... the result salvaged Calzaghe's career and transformed the Welshman from world boxing laughing stock to pound-for-pounder over night...however, in hindsight, people remember that Lacy was hurt and forced very hard by Sheika...
Opponent Grade: B (hindsight is a revealing thing)
Calzaghe Performance: A

w pts 12 Evans Ashira, September 2005
Another nothing fight, this time with the excuse it was a warm-up to a unification bout with Lacy... the diminutive Ashira looked like a cross between a Zulu and a Hobbit in there... the 'challenger' had been dropped three times and KO'd in two in a middleweight title bout with Maselino Masoe, who himself lost his next two fights... Calzaghe badly hurt his hand in the fight but still won every round using only his right fist... which tells you all you need to know about this mismatch
Opponent Grade: D
Calzaghe Performance: D* (or as good as it could be for a one-handed man)

w rsf 6 Mario Veit, May 2005
Another fight Calzaghe had to take if he wanted to keep hold of his WBO belt... Calzaghe's promoter Frank Warren was surprisingly outbid for the fight and Calzaghe had to go to Germany for this rematch... Joe looked like he was forcing his work but a win in Germany is nothing to be sniffed at...
Opponent Grade: C
Calzaghe Performance: C

w pts 12 Kabary Salem, October 2004
The 'Nile Nutter' was coming off a loss to Veit and always figured to be a maul of an opponent and he was... he also became the second man to drop Calzaghe in three fights... another dreadful fight to watch and Calzaghe's career again seems in limbo...Salem was knocked out in his very next fight by 13-0 Lucian Bute
Opponent Grade: D
Calzaghe Performance: E

w ko 7 Mger Mkrtchian, February 2004
Eight months of inactivity again robbed the champion of the chance to sustain some momentum after an exciting win... the Armenian wasn't a total patsy, though, after losing to Calzaghe he went on to win the European Title...
Opponent Grade: C
Calzaghe Performance: C

w rsf 2 Byron Mitchell, June 2003
A return to proper world championship boxing - and how... after winning the opening round Calzaghe is decked for the first time ever - and hard - by the ex-WBA champ... badly hurt, Joe C nevertheless fights fire with fire and drops Mitchell seconds later... chasing the American to the ropes, Joe forces a (slightly premature) stoppage in the very same round... Mitchell was (you guessed it) coming off a loss, albeit a controversial one to Ottke in a IBF/WBA unification match...Mitchell hasn't fought since.
Opponent Grade: B
Calzaghe Performance: C

w ko 2 Tocker Pudwill, December 2002
Dubbed 'Captain Pugwash' by Sky Sport commentator, Pigswill (whatever) was a totally undeserving world title challenger when he fought Sven Ottke in 2000 and was even less deserving of this second shot here... Pugwash's last three opponents before this farce were 28-187-6 combined!... even though Pugwash was a two-week replacement, this was poor, poor, poor...
Opponent Grade: E -
Calzaghe Performance: Not applicable (He was a punching bag)

w pts 12 Miguel Angel Jimenez, August 2002
Ho-hum defence forced on Calzaghe by the WBO... five years into his reign as WBO champ Calzaghe looked bored here...Jimenez lost his next fight to Brian Magee and hasn't fought since...
Opponent Grade: D
Calzaghe Performance: D

w pts 12 Charles Brewer, April 2002
Former IBF champion Brewer turned pro in 1989 and had seen better days by the time he travelled to Wales to face Calzaghe... Brewer was 2-2 in his last four going in...I expected Joe to blast him out, quite honestly, as this was half a decade on from Brewer's shaky performance against aged non-puncher Herol Graham... nevertheless, Brewer took everything Joe threw at him and, while Calzaghe was a clear points winner, it was a good brawl..
Opponent Grade: C+
Calzaghe Performance: B

w ko 4 Will McIntyre, October 2001
Richie Cunningham look-alike McIntyre had only lost to Dana Rosenblatt and Omar Sheika... but that's because they were the only real opponents he had fought... in fact, McIntyre's last three opponents before his title chance v Joe had a combined record of 35-35-5... a wretched mismatch...
Opponent Grade: E
Calzaghe Performance: Not applicable

w ko 1 Mario Veit, April 2001
German Veit arrived with a big reputation and an undefeated record of 30-0 but was smashed to pieces inside one round... Veit went on to win European and 'interim' WBO titles and is yet to lose to anyone not named 'Joe Calzaghe' in 50 fights...
Opponent Grade: C+
Calzaghe Performance: B

w rsf 10 Richie Woodhall, December 2000
A very good win over former WBC champ Woodhall... however, the Telford boxer was coming off a loss to Markus Beyer in his last major bout where he got dropped three times in the opening round... The fight would have meant so much more if only it had been a unification bout... Nevertheless, an impressive win which sent Woodhall into retirement.
Opponent Grade: B
Calzaghe Performance: B-

w rsf 5 Omar Sheika, August 2000
After three less than impressive performances, the Welsh Dragon roared back to his best by destroying heavily hyped American Sheika in London...If you want to be pedantic, you could argue that the stoppage was a little premature, but, for me, Calzaghe had won every second of every round and the American was getting the stuffing beat out of him... And before dismissing Sheika as no better than Starie or Thornberry, consider the American was coming off a win over Glen Johnson and nearly had Jeff Lacy out of there in a very close fight in 2004...
Opponent Grade: B
Calzaghe Performance: B

w pts 12 David Starie, January 2000
British and Commonwealth champ Starie was a talented fighter... He held a win over future world light heavyweight king Clinton Woods and ex-title challenger Sam Storey and, in his final fight in 2003, would beat Sven Ottke only to get the shaft from the Hun... However, the Calzaghe fight on the Mike Tyson undercard was horrible... The styles just didn't gel and the resulting maul hurt Calzaghe's credibility badly...
Opponent Grade: C
Calzaghe Performance: D-

w pts 12 Rick Thornberry, June 1999
Australian Thornberry had been stopped in five rounds to Henry Warton in a previous visit to the UK but took Calzaghe the distance... However, the Welshman's hand problem flared up once more forcing the champion to box rather than bang... Sky TV's 'expert' panel (including Steve Collins) tore Calzaghe to pieces post-fight, but I see nothing wrong with the win given the circumstances and considering Thornberry was competitive with Anthony Mundine three years later...
Opponent Grade: C
Calzaghe Performance: C

w pts 12 Robin Reid, February
Hot and cold former WBC champ Reid was a tough opponent, esp considering Calzaghe was coming off a 10 month lay-off... Calzaghe started extremely well, sweeping the first three or four rounds with his speed and sharp southpaw jab... However, his left hand "went" in the fifth and Reid began to slam home huge right hands to the Welshman's skull...Reid landed the harder shots in the second half of a cracking fight... Some believe to this day that Reid deserved more than a split decision... I'm not one of them (I scored it 116-113 to Joe C) but, for whatever the reason, there was never a rematch and that's a black mark against Calzaghe...
Opponent Grade: B
Calzaghe Performance: C

w rtd 9 Juan Carlos Gimenez, April 1998
Not even veteran Sky super-shrill Paul Dempsey could get Calzaghe to pretend the tough but limited Gimenez was an actual threat... In a pre-fight show, Dempsey pointed out to studio guest Joe that the Paraguayan had taken both Eubank and Nigel Benn the distance and, presumably, hoped Calzaghe would feign some sort of fear...Instead, Calzaghe - God love him - deadpanned: "But he didn't win, though, did he?"... Nor did "he" v Joe, getting outclassed to the point of withdrawal in nine...
Opponent Grade: C-
Calzaghe Performance: C+

w rsf 3 Branko Sobot, January 1999
A facile first defense for the new champion, Calzaghe pounded the undersized blown up middleweight inside three one sided rounds... The Croatian had gone the distance with Hacine Cherifi in a European middleweight title challenge... however he is 5-9 post Calzaghe...
Opponent Grade: D
Calzaghe Performance: C

w pts 12 Chris Eubank, October 1997
When a bored Steve Collins retired from boxing rather than face the 'undeserving' Calzaghe, Eubank was drafted in as a replacement on a week's notice to meet Joe for the vacant WBO title... Eubank was due to fight at light heavyweight on the card and, two years removed from the super-middleweight division, probably was weight-drained...Nevertheless, an untested 25-year-old Calzaghe proved that his punch was for real by decking 'Simply the Best' in the opening seconds and went on to prove his stamina, speed, skills and chin, too, in taking a one-sided decision over the 31-year-old legend...The Eubank nearly beat cruiserweight Carl Thompson in his next two fights underlines the greatness of Calzaghe's performance... It was just about as impressive a debut as a fighter can make on the world scene.
Opponent Grade: B
Calzaghe Performance: A
So, what have we learned? Calzaghe has fought and beaten a maximum of seven opponent you could conceivably call top class: Eubank, Reid, Sheika, Woodhall, Brewer, Mitchell and Lacy. Of the seven, only Lacy was undefeated and Eubank, Reid, Woodhall, Brewer and Mitchell were all coming off losses in their last meaningful fights.

Calzaghe has also fought and beaten some decent 'marking time' or subsidiary opponents like Veit and Mkrtchian but then there's the sheer woefulness of the Sobots, McIntyres and Pudwills, men Calzaghe shouldn't even entertain as sparring partners.

The record is also silent on all the fights Calzaghe could have or should have had, like the three cancellations against Glen Johnson, the rematch with Reid, Sven Ottke (who held the WBA and IBF titles whereas Joe was once merely the WBO title-holder) and one or two other.

Having looked at the reigning IBF/WBO 168lbs champion's world title career closely, my own view is that the Welshman is three big wins away from true legendary status. And by big wins I mean besting Mikkel Kessler, who some believe is the true No.1 at super-middle, Jermain Taylor, Winky Wright or Clinton Woods.

And only then should there be any kind of serious debate about the Newbridge southpaw being the best British fighter of all time.

Let me know what YOU think? Was my appraisal of Calzaghe's career accurate? What I too harsh? Too moderate? Do you think Calzaghe has achieved more than Ricky Hatton or Clinton Woods at this moment in time? Has he left Lennox Lewis in the dirt? Is Joe really the best British fighter of all time, as has been suggested this week?

Hit the ASK THE EDITORS button below, fill in the form, and give me both barrels with your thoughts. The best points/questions will be published next week on the site...