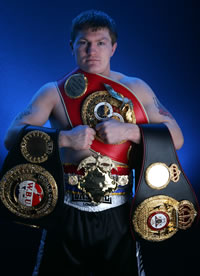 The man with the belt (pic Paul Speak)

By Ant Evans: World Welterweight Champion Zab Judah's shock loss to Carlos Baldomir in New York on Saturday and the resulting cancellation of Judah's April super-fight with Floyd Mayweather Junior will not affect Ricky Hatton's plans for a 2006 American invasion.

After Judah v Mayweather turned to dust, the feeling in the industry was that American cable giant HBO would immediately shift their focus on making Mayweather v Hatton sooner rather than later. However, the Manchester Hitman's manager and father, Ray Hatton, told SecondsOut Monday (January 9) that his WBA/IBF junior welterweight champion son will not be rushed into a fight with the 'Pretty Boy'.

Hatton said: "There'll be more pressure to fight Mayweather now from the Americans because, obviously, there's one less big fight out there for Floyd Mayweather now Zab Judah has lost. But a fight with Mayweather has always been very high up the agenda for us; but we still want one or two fights in America before we get to Mayweather. If anything, Judah's loss has make us even more attractive in the marketplace."

But Hatton believes his son needs the experience of fighting abroad before he takes on the super-talented three-division champion Mayweather.

He said: "Richard needs the experience of training aboard for a fight for the very first time, getting used to that, he needs to have the experience of doing everything the American television and media will expect him to do, getting used to the different time zones, fighting in front of an American crowd - all that.

"And I don't want him to have to deal with all that for the very first time and fight someone like Mayweather as well. Richard isn't a big head, he's got no ego on him, and he will tell you himself that Mayweather is the biggest danger out there for him. That's why he wants to fight Mayweather most of all now he's already beaten Kostya Tszyu, who was the No.1 before Ricky beat him. So, when Richard does fight Mayweather I want Richard comfortable with where he's training and everything else that goes with having a big fight in America."

"Let's be honest," Hatton continued. "There's no way Mayweather would come to England to fight Ricky. No chance. I don't think the elite fighters will ever come to England and fight Ricky now. Maybe they would have before the Kostya Tszyu fight but certainly not now. Mayweather has already point blank said he won't come over to Manchester or anywhere in England for the fight so - if we have to go to America for him - then we will be happy to do so but we'll do it when we are ready and not before."

Although Mayweather's ruined fight with Judah was for the undisputed welterweight championship, Hatton believes the Hitman v the Pretty Boy is a fight which has to happen.

"I'm not sure whether Mayweather will be interested in fighting Baldomir," he said. "I don't think the Americans will be too interested in that, either. Mayweather could pick up a vacant title (the WBA and IBF titles were declared vacant with Baldomir's win, as he didn't pay the sanctioning fee for the Judah fight) and, to be honest, I've got a sneaking feeling that Miguel Cotto will move up to welterweight to pick one of those up as he's dead at the weight in Ricky's division.

"But I think Richard will fight Mayweather or Cotto within the year. Richard has always been about fighting the best opponents and now we are calling the shots to a larger degree, promotion wise, that's what will be happening ."

Hatton confirmed he has a meeting with Fight Academy Promotions, who put on Ricky's last fight v Carlos Maussa two months ago, later today about extending their relationship.

He said: "Up until now Golden Boy Promotions have been the favourites to work with us for the next fight but as I've said I want to keep the association with Dennis (Hobson) and Robert (Waterman) so I'll be very interesting to hear what they've got to say."