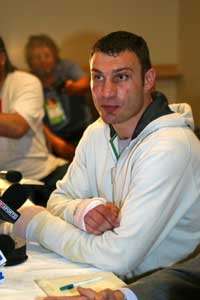 The start of the hurt - damaged hands (pic Mr Will)

By Ant Evans: Vitali Klitschko has shockingly announced his retirement from boxing and has thus abdicated his WBC heavyweight championship to 'interim' champion Hasim Rahman.

The 34-year-old is probably at the peak of his powers but he has endured a horrendous year with a series of serious injuries and, apparently, has had enough.

"It's a hard decision to take, but I'd like to go out at the top and with my departure open the way for my successors," he said in a statement. "I've more often been stopped by injury than by an opponent."

The big punching Klitschko assumed the throne of Lennox Lewis when he won the title vacated by his old rival in April 2004, knocking out Corrie Sanders in eight in April 2004. Then followed a stoppage of the game but overmatched Danny Williams last December and that is where Dr Ironfist's career spiralled into a nightmare.

Klitschko's fists were left damaged from the Williams fight and thus he was not ready to fight mandatory challenger Hasim Rahman until April 30. But a serious of injuries to his thigh and back saw the bout pushed from June 18 to July 23 to, finally, November 12.

In an interview with this website a month ago, Klitschko characterised 2005 as the worst of his life, baring the birth of baby son Max, but the Fates hadn't finished with the Ukrainian.

Last Thursday (Nov 3) Klitschko ripped his knee in sparring, forcing him to pull out of his mandated clash for a fourth time. There were also credible rumours that Vitali, the elder and stronger Klitschko brother, had been dropped - twice - in sparring and had endured a poor camp.

With the press questioning his courage (which, for me, is beyond reproach) and validity of his injuries, Klitschko announced he was quitting the sport today (Wednesday). Under the WBC rules, Rahman - who won the interim belt in August in a dismal fight with Monte Barrett - is once again the full, one and only WBC heavyweight champion.

Now, the question must be raised as to how permanent a retirement this is.

'Retire' is, after all, what fighters do to pass the time between fighting and their next training camp. I have great sympathy for the pretty dreadful year Klitschko has had and totally can empathise with him throwing his hands in the air and crying 'enough' but the fact remains that, after his knee heals, his is still the best heavyweight out there.

It could well be that the punching PhD has decided that it a better PR move to give up the belt rather than try to hold on to it without having a mandatory defence in two years. Retiring, even for the short months required to heal up, legitimises his injuries more than any doctor's note ever could.

On the flip side, this could be purely an emotional decision. Vitali is a very nice guy. I've always found him to be funny and witty to talk to, but he is more of a hot headed emotional type than younger brother Wladimir. Remember when Vitali got in the face of Corrie Sanders, moments after the South African had blow away Baby Brother in Germany?

Come next April or May, Klitschko will be in a better position to listen to what his body is telling him and make a less emotional decision regarded his future. If he decides to return - and a lot of people will want him to, as he along with WBO champ Lamon Brewster and Cal Brock are the only consistently exciting heavyweights in the dour division - he will probably only one or two fights away from getting the chance to fight for the belt he has handed back to the WBC today.