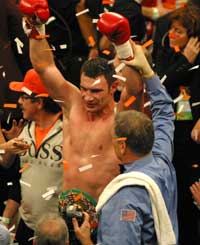 Kiltschko(pic Mr Will) celebrates title win over Danny Williams

Interview by Ant Evans: WBC heavyweight champion Vitali Klitschko will end perhaps the most frustrating 11 months of his career on November 12, when he will finally enter the Thomas & Mack Center in Las Vegas to fight the Don King promoted Hasim Rahman.

The birth of his second son (named 'Max' after his
recent departed hero Max Schmeling) aside 2005 has
been a year the 34-year-old Ukrainian would probably
wish to forget. It started bad and got gradually worse.

Talk of nemesis Lennox Lewis returning for what would have been one of the most eagerly waited rematches in recent history came to nothing when Lewis, who turns 40 on September 2, sensibly told HBO he could get by without their reported $14million offer.

On hand in Las Vegas to work on HBO's telecast of Klitschko v Danny Williams last December, Lewis's calculated mutterings of ending his retirement completely overshadowed Klitschko impressive in-ring
performance and the reigning WBC champion feels he may
not have got the credit he deserved for taking apart the man who was coming off a thrilling four round win over a still live Mike Tyson.

Talking over the phone, the champion said that the Williams fight was one of the most difficult of his career because his mind was on the political unrest in his native Ukraine, where Liberal leader Viktor Yushchenko was struggling to overturn November's rigged elections in favour of Soviet old boy Viktor Yanukovych.

"Unfortunately some people in my country don't believe in democracy and are trying very hard to go backwards
to the time when we were in the Soviet Union," Klitschko began. "Eventually Viktor Yushchenko was made president but before my fight with Danny Williams is was very worrying. Every night in December thousands and thousands of people were on the streets of Kiev protesting against this crime. People were very worried about violence (breaking out) but they were standing up for democracy. I felt as heavyweight champion from Ukraine I should be there with Wladimir and stand with them.

"This was great pressure on me for the Danny Williams
fight because everyday in training I wanted to know what was happening in the newspapers, on television, I
was talking to Wladimir, who was there with the protestors, I was very worried because Ukraine will always be my home. I told (Viktor Yushchenko) that I wanted to postpone my fight with Williams and come to Ukraine to protest but he said it would be more important to win in the boxing ring and use that (publicity) to help make people aware of what was happening in Ukraine. And I was also surprised by Danny Williams's performance. He kept coming again and again even though I was hitting him very hard."

Eventually, the Ukrainian Supreme Court upheld
Yushchenko's victory but Klitschko's woes continued.
He ripped his left thigh muscle while training for an April 30 date with WBC No.1 Rahman and subsequently rescheduled for June 18, only for the leg not to heal as quickly as expected. And the Fates hadn't finished yet, Klitschko was forced out of the July 30 date with 'the Rock' after seriously injuring his lower back.

Klitschko had to go under the knife for minor corrective surgery but the longest knives came out for the champ in the press after three successive postponements. PR man Alan Hooper of DKP, one of the best in the biz, orchestrated a seemingly endless campaign portraying Klitschko as a man 'running scared' from Rahman. It was effective stuff and convinced a number of respected boxing scribes to join in the feeding frenzy, decrying Klitschko as a coward and even resurrecting the old 'Quitschko' line.

"But right now I can smile because I am healthy, I am
ready to fight Rahman," Klitschko said as I quoted some of the more savage lines from various newspapers
and websites. "Sometimes the press is not so objective. But I am not angry; people who are objective know these things are not true. I am not a
coward, I am a fighter. I fought Lennox Lewis with 11
days notice."

Klitschko may be able to speak four languages but he
doesn't talk much smack. Yet there was menace in Klitschko's voice when he spoke about his upcoming
fight with 'the Rock'.

"I am really happy that Rahman beat Monte Barrett,"
Klitschko admitted. "I was watching it on television with my fingers crossed. I don't like talking too much like this but I will close his mouth in the ring. He has been saying such things - about me been afraid of him and (inventing) injuries - I want to beat him very much. His mouth proves nothing to me. I understand part of professional boxing is show business but I also think real fighters do not perform in the press, they perform in the ring."

And Klitschko's appraisal of the latest in-ring performance of the ex-champion who is allegedly striking such fear into his heart?

"It was not so interesting. Actually, you know what, it was boring. But what was interesting was that my
brother needed just five rounds to knock out Monte
Barrett (June 2000) but Hasim Rahman couldn't knock out Monte Barrett in 12 rounds. And how long do you think Monte Barrett would last against Vitali Klitschko?"

Not very, but such is the continued apathy towards the
weak big man division that Klitschko v even a shaky
looking Rahman what passes for a compelling world title match. In fact, Bob Arum, who hasn't promoted a
heavyweight fight in a decade, decided to bid
$12.1million (beating big purse offers from both King
and Klitschko's own K2 Promotions) to win the right to
stage the WBC title fight.

Klitschko commentated: "I was surprised because I
thought K2 or King would get it but actually there is no problem with Bob Arum promoting the fight for me. I
have known Bob Arum for a long time and we have worked
together before (Arum's star junior welter Miguel Cotto topped the Klitschko v Williams card) and I think Top Rank will be fair to both me and Rahman in this promotion."

Come fight night, Klitschko won't have boxed for 336
days while Rahman, as uninspiring as his win over 'Two Gunz Shy' Barrett was, would at least have the benefit of those 12 rounds compared to the champion's injury-ridden inactivity. Team Klitschko are clearly concerned about this because they wanted a warm-up bout against Oleg Maskaev but such was the boxing media's reaction to that mooted match-up Klitschko asked to be matched instead with the talented, unbeaten Calvin Brock.

"Actually, I wanted to fight Calvin Brock not as a warm-up but because I think he is a very strong fighter who would be a great challenge to me,"Klitschko said. "Brock was the best available challenger for September. Honestly, I think Brock is a much more dangerous challenge for my title than Hasim Rahman. I was very impressed with Calvin Brock's (off the canvas win over) Jameel McCline in April. It was more impressive and interesting than Hasim Rahman v Monte Barrett."

However, the WBC, upheld a complaint from King's office and ordered that Klitschko must defend against the winner of the Rahman v Barrett 'interim title' match next without any more voluntary defences.

"I have my own opinion but I accepted the WBC's decision," Klitschko said. "But it means that I have to wait until November - 11 months since the Danny Williams fight - before I box again. If the WBC wanted me to fight only Rahman that could have happened in September because my doctor informed the WBC and Don King (months ago) that I would be ready to fight Rahman in early September. So why did Rahman fight Barrett on August 14 to make this impossible?"

Main Events boss Kathy Duva, who promotes Brock, has a
theory: "All this interim fight was about was guaranteeing Don King got more money for the Klitschko v Rahman fight. As a mandatory Rahman and King get 25% of the purse, but as and interim champion their cut goes up to 35% under the WBC rules. That's the reason we didn't get to see Klitschko take on the best young, unbeaten contender in Calvin Brock on September 23 with the winner facing the winner of Rahman v Barrett in
December."

But DKP protests that Klitschko had already scuppered three dates with their fighter and therefore is in no position to moan about having to kick his heels on the
sidelines.

Whatever your view, one of the more legitimate
criticisms of Klitschko is that, even when fit and healthy, he's fought only twice per annum since 1999.
Considering Klitschko has openly admitted there are no
superstars for him to beat, and that he'll have to do a "Joe Louis" and forge a legacy based on being an
outstanding champion in an average era, just three
fights post-Lewis isn't really good enough.

Klitschko said: "I want to fight often, I wanted at least three fights this year, and I want to fight the best. I am interested in fighting Chris Byrd, because
of the injury (loss). People know I was beating Byrd
(in April 2000) but hurt my shoulder and he took my
WBO title on injury. Even though my brother brought
that title back to the family by beating Chris Byrd I would also like to fight Byrd. I am also interested fighting John Ruiz for his WBA title.

"More interesting to me, though, is Lamon Brewster,
the WBO champion. He is a strong puncher, like me, and
I think that would be a very exciting fight for the fans and everyone in boxing. I am afraid of no-one, no
challenge. In fact I want to fight the strongest fighters."

"I have two dreams," Klitschko added. "One is to have two titles and for my brother to also have two titles
and the Klitschko brothers will be the champions of the heavyweight division. I think my brother is the most talented boxer in the heavyweight division and my
opinion is that he will win the world title again.

"But if this is impossible I will be undisputed champion. And no matter what, I will be WBC world champion for a long time."


NOTE: This material originally appeared in Boxing Monthly magazine.