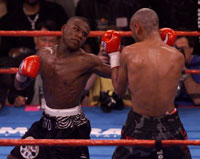 By Ant Evans: Even though one of the participants is coming off a humbling defeat in January, and the fact that the bout is still going ahead as a 'world title' match is an embarrassment to boxing, the needle between Floyd Mayweather Junior and IBF welterweight strap-carrier Zab Judah is such that the April 8 Las Vegas clash is still going to be treated like 'an event'.

In the furnace like spotlight of fight week, all images of Carlos Baldomir running Judah all around that New York ring will be burned away in the fans' minds eye and we will all get very excited despite our better judgment.

But Mayweather's temper will be neither hot nor excited.

Instead, 'Pretty Boy Floyd' explained to SecondsOut, any dislike for Judah will be expressed in carefully controlled and painstakingly chilled aggression.

"Yeah it is personal but I won't take it personal when I get in there," Mayweather said from his Las Vegas gym. "When you take it personal in the ring - that's when you make mistakes. And I don't wanna give him anything to take advantage of. I want to dominate him."

There are similarities between Judah, 34-3 (25) and Mayweather, 35-0 (24). Both are lightning fast and flashy fighters with temperaments laced with hip-hop attitude. They were once close friends, in fact, but that friendship soured after an ego-fuelled sparring session got out of hand in Las Vegas early 2004.

And, not surprisingly, once negotiations began for them to punch each other for pay a bitter round of trash-talking ensued.

However, less than two weeks away from the HBO PPV main event at the Thomas & Mack Center, Las Vegas, Mayweather, at least, is reigning in his emotions.

He said: "I do respect Zab as a man, but not in the fight game. He's gonna to have to make me respect him in the fight game."

Because Judah lost his WBC title to Baldomir in January, a lot of numbers associated with next weekend's fight had to be adjusted. Judah and promoter Don King were forced to accept an Atkins Diet deal of just $1million (plus a percentage of any profits above $7million) instead of the $3million agreed to before the Carlos calamity; meanwhile Mayweather himself still lost $1million as his purse strings were tightened from $6million to $5million.

"I couldn't believe what I was seeing," he admitted when he watched his good friend turned rival lose the last six rounds plus against a supposed tune-up opponent. "But I still think there's interest in my fight with Zab Judah. There's still (credit) in me beating Zab Judah.

"I feel that Baldomir won the fight. But when you are at 100% and the other guy is at 40%, you should knock the guy out and Baldomir didn't do that. The job wasn't done, he didn't dominate the fight and that's exactly my plan for April 8. I'm gonna step on Judah and dominate everything.

"I'm gonna stick to the gameplan, and the gameplan is hit and not get hit. The less you get hit, the longer you last in the sport of boxing. You've never see a performance like the one you'll see April 8."

That Mayweather will perform superbly is not in doubt. Thus far in his 10 year career, the Grand Rapids, Michigan, born champion has had precisely one off night. That came four years ago when PBF was suffering with a shoulder injury and - yes - he still managed to defeat Jose Luis Castillo.

Judah, however, has fallen apart more often as a cheap watch despite several impressive wins here and there.

Since the fighter with the diamond teeth and flint tongue was blasted to defeat by Kostya Tszyu in 2001, he has been rebuilding his reputation and sense of his own invincibility. And, notwithstanding a close and emphatically avenged loss to Cory Spink in the interim, Judah had largely accomplished this ego reclamation, to the point where he was considered a live underdog against the world's greatest fighter.

Then came Baldomir and Judah became this year's Henry Bruseles. Even in a sport still second guessing itself in the wake of Calzaghe v Lacy, you will have to stay up pretty late at night before you hear anyone picking Super Judah over Pretty Boy.

The reasoning goes like this: Judah lacked in confidence against the likes of Cory Spinks (the first time) and Rafael Pineda because he was still feeling vulnerable after the Tszyu defeat. Now those old wounds have been ripped open again, a surgeon of violence like Mayweather will turn the ring into a macabre operating theater.

But Mayweather believes that the Baldomir loss could have the opposite effect, and make Judah fight aggressively, perhaps even desperately so.

Mayweather said: "It could be like when Evander Holyfield fought Mike Tyson the first time (November 1996). Zab is now in a position where his back is against the wall if he wants to ever be in a position to make big money again. He has to really do something April 8 after the Baldomir situation. It could be that, y'know, he'll put blood, sweat and tears into this fight. It could be that he gives me a hell of a fight.

"That's what I am prepared for. I don't think he can win, but I am prepared for him to give me the fight of his life."

We'll find out if Judah has as much confidence in his abilities as his former friend has next weekend.