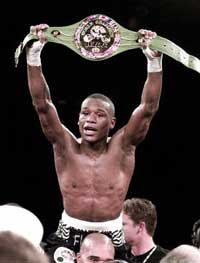 Mayweather gives it up

By Ant Evans: Pound-for-pound king Floyd Mayweather Junior has relinquished the WBC junior welterweight championship he brutally mugged from Arturo Gatti last summer, in anticipation of winning the IBF welterweight belt from Zab Judah on April 8. Undefeated Mayweather - who has also held titles at super-featherweight and lightweight - brutalised 'Thunder' Gatti in as one-sided a fight as you'll ever see on PPV but has now handed it back having decided to campaign full-time in the 147lbs (10stone 7lbs) division.

Mayweather told SecondsOut: "The only fight down there at 140lbs for me is Ricky Hatton, and he's even coming up to 147lbs (to face WBA title-holder Luis Collazo in May). Hatton's the only guy down there for me, not Miguel Cotto, Cotto's not even in my league. Cotto is a four round fight for me. So, if Hatton is coming here, there's no reason to keep the belt."

The Pretty Boy's waist has not gone unadorned with a world title since he was 21, eight years ago, and the 35-0 (24KOs) quicksilver added that he wants to win further world titles at welterweight and junior middleweight by October 2008. That date is significant because he wants to win world championships in five different divisions all within a single decade, and he became WBC super-featherweight champ in October 1998 by hammering Genaro Hernandez.

The WBC is expected to confirm next week that Britain's Junior Witter, who has gone undefeated since a derisory loss to Judah six years ago, will box former Floyd victim and current sparring partner DeMarcus "Chop Chop" Corley this summer for the vacant title.

"I didn't want to hold the title and the division up," Mayweather said. "Let other fighters have their opportunity. I've got some great fights out there for me, so many I really can't chose which one I'd like best. There's Oscar De La Hoya and there's Ricky Hatton - so many great fights for me. I'm blessed."

Trainer and uncle Roger Mayweather believes the De La Hoya and Hatton fights will happen within the next 12 months. He told SecondsOut: "Oscar will beat Ricardo Mayorga in May and there's a serious chance we'll do this thing (later in the year). Then you got a guy from across the water - Hatton - and, if he wins this next one (against Collazo), he'll have three world titles. Like (Floyd), he's young, he's in his prime and this fight must happen. It's could be the biggest fight in boxing."

Meanwhile, though, Mayweather will meet his good friend turned bitter enemy Judah in Las Vegas on a HBO PPV a week on Saturday. Mayweather was expected to win even before Judah's embarrassing loss to journeyman Carlos Baldomir and, in the wake of Judah getting stunned and almost run out of the ring in January, what was an intriguing fight has, for many, become merely a chance to see the world's most talented fighter go through his bag of tricks once more.

And the Pretty Boy is planning a master class.

"I'm going to dominate him and knock him out," Mayweather said, matter-of-factly. "I think that because he lost to (Carlos) Baldomir, Zab Judah has been put in a position where he will be willing to die to win. That's what I love. I can't wait for everyone to see what I do in this fight."