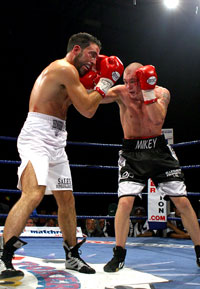 Moore (right) in action (pic Mr Will)

By Ant Evans: Thriller/chiller British light middleweight champion Jamie Moore is now kicking his training into high gear ahead of his mouth-watering defense against Matthew Macklin next month. After two postponements, what should be one of the best all British brawls of 2006 is due to take place at the Altrincham Leisure Centre on September 29 and, after initially not being keen on the fight, 'Mooresy' now cannot wait.

Moore told SecondsOut: "I'm really looking forward to it now. To be honest, I wasn't at first because I thought Macklin's just another British Title challenger and I'd been beating guys at this level for three, four years now. But then I realised just how much the fans wanted to see it, how excited people who follow boxing were about the fight, and then I started to get excited.

"All I care about is if fans and the media think I'm in a fight worth having, where people who follow boxing think there's something at stake. Honestly, I thought people would just think 'Jamie's been at this level for ages' and think I was just (treading water) but now they are excited - I am excited to be fighting Macklin and I realise what a good fight it is."

Birmingham based Macklin was little bit forgotten following his close loss to Andrew Facey in November 2003. However, under the tutelage of Ricky Hatton trainer Billy Graham, Macklin, 17-1 (13), is a vastly improved fighter; some say even a potential world champion. And with Moore looking to force his way into the world top 10 the fight becomes something of an eliminator to see which Brit goes into world class.

And Moore added: "Plus, he's also made a bit of a name in America, off the back of being 'Irish' and challenging (Irish-American fan favourite) John Duddy for a fight. So when I have his name on my record, that will show up on the American's radars, too. Funny thing is, I'm three-quarters Irish and so am probably more Irish than he is! Maybe I should use the 'Irish' angle when I go to America."

Speaking on Macklin's abilities as boxer Moore, 24-3 (17), added. "He's come back well from the Facey loss, he's improved but he's not beaten anyone yet. Scott Dixon was well past his best when Macklin beat him and who else has Macklin beat? He's talented, I know, but he's gonna get suck a shock, believe me. He's not got hit back yet.

"I think it's gonna be a great fight, a total war. But it absolutely won't be going the distance."

The fight should have taken place in April, only for Moore to pull out. Then a date of July 21 was announced, only for David Haye's mandatory European Cruiserweight defense against Ismail Abdoul to top the Sky Sports televised card instead.

Moore explained: "The situation was, quite simply, Sky gave Haye the top of the bill because if Haye didn't defend against that Abdoul in July he'd be stripped of the EBU title and no-one, including Sky, wanted him to lose his title on a technicality. So they bumped my title fight to September. That's the only reason I haven't already beaten Macklin as I'm talking to you and it was a bit daft of Macklin's people to put out a press release saying I was 'avoiding' Matthew when they knew what Sky had done and why."


The Salford southpaw had a warm-up fight on the Altrincham card instead, stopping middleweight Mike Algoet in five exciting rounds.

"I went thought the gears and get the stoppage," Moore said. "I didn't think I'd stop him, I thought I'd get a good workout and go to points, but I got it. He gave me five good rounds and that's what I needed."