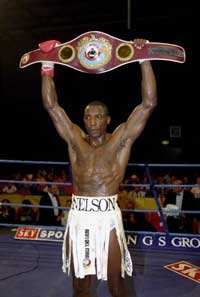 WBO king Nelson plans to end his career on a high

By Clive Bernath: A little more than 10 weeks ago it looked as though WBO cruiserweight champion Johnny Nelson may never box again after snapping his Patella ligament during a sparring session with heavyweight Mark Krence.

But now after exhaustive physiotherapy and the incredible will to end his illustrious 20 year career on a high the 39 year-old Sheffield boxer plans to return in the Autumn, and has targeted Welshman Enzo Maccarinelli.
***************************************************************************

*************************************************************************
" Johnny is back in light training and hopes to return at the end of September, early October," said Nelson's trainer Dominic Ingle. " He is training now on the upper body with weight training and on the exercise bike. He's really looking in good shape."

At the age of 39 and after 20 tough years as a pro a serious ligament injury would almost certainly spell the end of lesser a fighter's career's but Ingle believes Nelson's clean living and devotion to training over the years has enabled him to recover quickly from such a serious injury.

"Johnny is the consummate pro," insists Ingle. "Johnny has always stayed fit and ticked over between fights and I believe that has helped him. He is being very well looked after by his doctors and they say he is at least eight weeks ahead of schedule for this type of injury. As I said Johnny is in good shape now and next week (May 7) we will start training on the damaged leg and gradually ease him back into full training."

According to Dominic Ingle, Nelson has also been motivated by the thought of defending his WBO title against big punching young pretender Maccarinelli, the man he was in training to face before being ruled out through injury.

"Johnny has no intention of retiring because of injury," said Ingle. "He wants to face Maccarinelli and go out a winner. He saw the Maccarinelli vs Hobson fight and had tears of frustration in his eyes because he knows he should have been facing Maccarinelli. It's the fight ITV want and a great fight for the fans."

May 4, 2006.