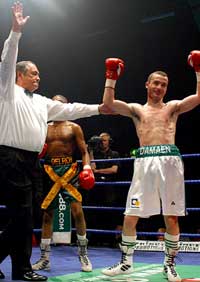 Kelly (right) lshould have been raising his arm against Maludrottu but it was not to be (Mr Will)

By Clive Bernath: Three days after watching the Damaen Kelly vs Simone Maludrottu European bantamweight title fight I still cannot quite believe the Italian retained his title by virtue of a unanimous 12 round decision in Belfast on April 22.

On the night I scored the fight 118-110 in 33 year-old Kelly's favour. Admittedly I watched the fight live on tv but when doing so I always trust my own judgement rather than being possibly swayed by pundits and commentators etc. What I saw (or what I thought I was saw) was a classy Irishman Kelly hand out a comprehensive and professionally sustained boxing lesson to the Italian defending champion over 12 hard fought rounds. For me Damaen Kelly has always been a very classy boxer, the sort of fighter that every young kid coming into the sport should try and aspire to. Kelly may never be able to produce the goods in true world class but in Europe over the last 10 years he has been the best 8st fighter out there. And Friday night it seemed a given that his hand would be raised in triumph as Europe's premier Bantamweight. We all know by now that that was not to be the case and Maludrottu was as surprised as anyone that he regained his title when judges Beat Hausmann (118-112), Arno Pokrandt (116-113) and Robin Dolpierre (115-113), made him a convincing winner.
***************************************************************************

***************************************************************************
Anyway I've had three days to mull things over the decision and watch the fight again and guess what? I still had Damaen winning by pretty much the same score. After 20 years of scoring fights and being around boxing I like to think that I'm as astute as anyone at scoring a fight and have never seen such a disgraceful decision like it before.

I'm told that the British Boxing Board of Control, for which Kelly is a license holder and on whose jurisdiction the fight took place, have been inundated with so many faxes and emails of complaint that General Secretary Simon Block could wallpaper his entire office with them.

Kelly's manager Tommy Gilmour very nearly blew a gasket when being interviewed about the decision by Sky's Ed Robinson from ringside on Friday night but when I telephoned him earlier today he was back to his normal cheerful self.

"I still think that that was the worst decision I've witnessed in thirty five years in boxing," said Gilmour. " I have not seen the fight again yet but I'm getting a tape from Sky.

"So many people have come up to me since Friday night saying that they cannot believe how bad that decision was. More people have spoken to me about Damaen losing than when I have a boxer winning. Maybe I should keep getting losers then more people would talk to me," Gilmour joked.

Simon Block has confirmed that he has contacted his opposite number at the European Boxing Union Mrs Enzo Jacaponi to lodge an official complaint on behalf of Kelly and is very confident about the possibility of an immediate rematch.

" I'm relatively confident that Damaen Kelly will get a rematch," Block told SecondsOut. " It is not official but I am very hopeful that a rematch will be granted."

If indeed the European Boxing Union does agree a rematch then the fight will go out to purse offers.

And if indeed the European Boxing Union do decide to grant Kelly a rematch then equally it would suggest (in my eyes anyway) that they question the accuracy of their judges ability to score a fight, especially when all three judges are so far from the mark. That being the case then maybe the EBU should review the manner in which they select their officials. There is no excuse for incompetent judging, or refereeing for that matter, and the sooner the various powers that be improve their selection processes, the better.

April 25, 2006.