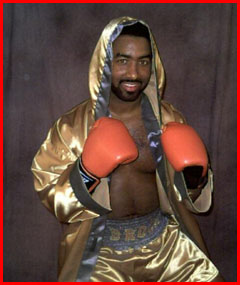 By Anthony Evans: On January 21, Calvin Brock, an unbeaten and comparative young heavyweight at age 30, scored the biggest win of his pro career by knocking out contender Clifford 'the Black Rhino' Etienne in three rounds which drew a line under the Charlotte, North Carolina, box-puncher's four year apprenticeship. He is now a genuine heavyweight player who should be at least listened to when he says he'll annex a major title in 18months.

Yet, as one of the more disappointing members of the under-performing US 2000 Olympic team, Brock wasn't supposed to have gotten even this far. Current IBF super-middleweight champ Jeff Lacy, featherweight hope Rocky Juarez and the derailed Ricardo Williams captured all the attention coming out of the Sydney Games and little (if that) was anticipated of medal-less super-heavyweight Brock.

Yet, as he explained to SecondsOut, the Olympian believes the absence of expectation allowed him to develop at his own pace and was a help rather than hindrance.

"I took the opportunity to train hard in the gym for the last few years, to really work at my skills so when the time came I could surprise some people." Brock said a few days after KOing Etienne. "I don't matter where on the mountain you start, it matters if you get to the top and because heavyweight champion of the world. At first everyone was taking about other heavyweights (like Sydney super-heavyweight champ Audley Harrison) and my (Sydney 2000) team-mates but I'm now ready to overtake and ride all the way to the top."

That ride kicked into top gear on January 21 with the crossroads battle with the Black Rhino.

"I had to go out and make a statement that I had arrived," Brock put it. He did that, but let's keep in mind that although Etienne holds wins over Lawrence Clay-Bey
and current WBO heavyweight title-holder Lamon Brewster but any ideas of him being a future world heavyweight champion evaporated when he was knocked down seven times by Fres Oqendo back in 2001. Then, more famously, he was obliterated in less than one minute by Mike Tyson in 2003.

"It was my biggest match until now but I know there's more to do," Brock admitted. "The important thing was to get the win and be impressive."

But that doesn't mean Brock felt obligated to stop Etienne any sooner than he did.

He said: "I wasn't in no hurry. In the first round I wanted to take his confidence more than anything, establish one or two thins. He may have won the first round but I was fighting to a plan. In the second round I hurt him to body and head, and my timing was there. I knocked him down and in the third round I put him down twice more and it was over. My defence is good, my eyes (choosing shots) are good and my power is there.

"With the fight going three rounds I got to show people more of what I am about, more of what I got. I showed power, yeah, but I also showed my balance, skills, speed. I showed everyone watching on ESPN that I am now a contender and hopefully I showed that I'm a future heavyweight champion of the world."

It's a dream Brock has dared to have since he was eight years old.

"I was bought a couple of pairs of boxing gloves," he recalls. "And I used to spar with my friends out in the yard. I liked it a lot! But my friends didn't like it so much and soon I ran out of friends who'd box me. But I'd already decided 'Man I gotta stick with this!' so my dad had to take me to the gym when I was 12."

And that was only after dad make little Calvin chose between the sweet science and... tap-dancing.

"I've loved tap-dancing since I saw it on TV when I was a young kid," Brock explained. "I never really had much time to do it because of boxing and school but I've been having lessons over the years in between pro fights and now I tap-dance in the ring before each fight. After five months of tap-dancing I was on a programme designed for people who've been doing it for three years. I don't know what it is but I've always wanted to tap-dance. I love it almost as much as I love boxing."

But 18 years ago dad made Brock choose between the two. His father Calvance
had never boxed nor trained boxers before but, spurred on by his son's enthusiasms, actually took over the running of the local gym. Young Cal went 0-6 as he began his experiments with the sweet science but you can't argue the father/son relationship worked out in the end.

"My dad started off by learning from instructional books and tapes he ordered from the back of a boxing magazine," Brock said. "But he coached me all the way to the 2000 Olympics."

Now Calvance manages his son assists Tom Yankello with his son's professional coaching; Team Brock know the fighter's career is now moving into a critical phase.

"I think my name is out there now," the unbeaten heavyweight said. "I'm back on ESPN in April and hopefully I can fight someone above me in the rankings again. I'd love to face Mike Tyson or someone in the genuine top 10. I see myself as the real champion already and I'll fight anyone right now. I've told Main Events to get me the best they can get me."

At time of writing, the best available opponent for Brock whom Main Events are confident of inking for the ESPN date is former two-time title-challenger Jameel McCline.

"There's McCline or a Michael Moorer - fighters who are ranked above me and have respect, that's who I want. People didn't pay too much mind to me after the Olympics but there's never been any doubt in my own confidence that I'd be champion. I'm the best up-and-coming American heavyweight right now."