Rendall Munroe: "I'll still empty dustbins when I'm a world champion"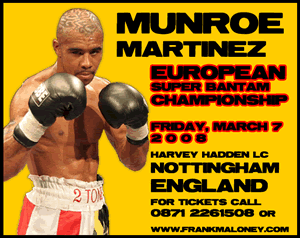 By Andrew Wake: If there was a title for being the most humble and friendly man in boxing then Leicester's boxing bin man Rendall "2 Tone" Munroe would win it with ease. There are no airs and graces about the stylish 27 year old southpaw, he's just a normal everyday guy doing what it takes to reach his dream of being a world champion.
 
At the start of 2008 Rendall was a blue collar boxer operating under the title radar but all that changed on a chilly Friday night in early March when he won the European super-bantamweight title by out boxing the previously undefeated Spaniard Kiko Martinez.
 
Martinez came into the fight with the reputation of being a murderous puncher, having dispatched 14 of his 17 victims inside the scheduled distance, and was ranked eighth in the world by Ring magazine but Rendall fought a perfect fight and in doing so announced his presence on the world scene.
 
Two weeks back, Rendall returned to action and swept aside the threat of European mandatory challenger Salem Bouaita in seven one-sided rounds.
 
Recently SecondsOut caught up with the "Punching dustman" and discussed his life and future.
*******
SO: Firstly Rendall congratulations on your recent win. Bouaita was an awkward customer wasn't he?
 
RM: Oh definitely. I think he came to see if he really had a chance and I think after the second round he realised it was gonna be a bit of a harder job than he really expected. I think he tried to play a survival game after that.
 
SO: What did you think when he started moving around the ring with his hands down?
 
RM: At first I thought he was trying to drag me in but Jason (Shinfield) told me not to get too involved in that, know what I mean? Just stay out of the way, keep on my game and go from that, which I did. I think he knew after he took a few big shots that I could punch so obviously he was trying to draw me into his type of battle but with all the sparring I'd done in training, I was ready for it. Obviously I took a few shots myself, I ain't gonna say I never got hit, but nothing that worried me at all and I think it disheartened him when he realised I wasn't going anywhere.
 
SO: What's next for Rendall Munroe?
 
RM: I can't say what or not really. I enjoy the sport and I'm hoping to become a world champion but I leave what's happening in the future to my manager Mike Shinfield and my promoter Frank Maloney. I just go to the gym, do what I need to do and go from there. Obviously if they say I'll fight Frank I'll fight Frank, if they say I'll fight Mick, I'll fight Mick and that's it's at the end of the day. They don't make me fight anyone but they come up with the opportunities and we discuss it.
 
SO: One man that has been mentioning your name recently is Esham Pickering. What are your thoughts on a fight with him?
 
RM: (Laughs) There's talk about me fighting him. I ain't one for calling out names myself but he's starting to belittle me now and I don't like that. Obviously I want to put the critics right and let him know that I'm coming through and I ain't stopping for no-one, so if he stands in my way, I'm moving him out of it.. I was due to fight him for the British title and then he went and fought Sean Hughes instead. Now he's saying that he wants to fight me, but why didn't he want to fight me before? Why should I step back down a level to fight him?
 


SO: Another man that is looking for a fight and was due to take on Martinez before you is Wayne McCullough? Is he someone who might be in your sights?

RM: At the end of the day I am out there to become a world champion and my philosophy is that 'If you want to be the best, you have to beat the best'. Same again with McCullough, it's up to Mike but if he wants me to fight him then I'll be in the gym cracking down hard and getting done what needs to be done.

SO: It's fair to say that you weren't the best known fighter before you won the European title, so what's changed since?

RM: The only thing that's really changed is that people are realising how good I really am. I've been saying for a few years how good I am but people didn't want to fight me. Mike and Jason said I was stuck in a bottle neck, nobody at the bottom wanted to fight me and nobody at the top wanted to fight me either because I didn't have anything to put on the line. Obviously I got the opportunity against Kiko Martinez and more fights are coming along now.

SO: Has there been any changes to your personal life?

RM: I few more people come up and talk to me and say 'are you that boxer guy' but I'm just a humble guy. I can't put my head in the ground or talk to people on different levels because I'm the same guy. I just get on with what I get on with and I've gone back to working. I don't want to go around giving the big I am and that. I just crack on with what needs to be done. Obviously I've got dreams like everyone else and the dreams are starting to come forward. I've been trying for a long time and things are starting to happen for me now.

SO: Since winning the title, what's the mood been like at the Shinfield's gym?

RM: Good. The Shinfield camp is just like a big family. Everyone works as a team. When I first started training there I was training alongside the Booths, Khaliq etc and I used to look up to them and now people in the gym are looking up to me. We're all trained by the same trainer so if one of us is good enough, we're all good enough. That's the way I've always looked at it. The Booths were British and Commonwealth champions then they went onto world titles. Jawaid Khaliq held a world title so when you're looking at them in the gym you say 'Yeah, I can be just as good' and I've always believed that I can become a world champion.

SO: I hear one indulgence you've allowed yourself is a new motorbike.

RM: Yeah, I've got myself a nice R6. I've promised Jason that when I've got a fight on I won't ride it and I've kept to my word. When I had a fight coming up I didn't go on it. The way I see it is it's like if you won the lottery, what's one of the first things you'd do? You'd go out and buy the thing you've always wanted since being a kid. I've always said that I wanted a nice bike, a nice car and then on I have to think about the future. I've got my nice bike, I'm gonna treat myself to a car and them make sure I've got a nest egg for the future. I've got two kids and a family to think about as well so obviously I don't want to go stupid. It can come quickly but it can disappear just as quickly. I'm looking to invest in things so my kids come through with all the things they need.

SO: You're building a good fan base now as well.

RM: Yeah, more people are coming because of the bin man thing. People are liking it because they can see that I ain't changed, I'm still the same person. I'd like to thank the fans out there who pay for the tickets to come and watch me because if it wasn't for them Sky Sports and Frank Maloney wouldn't want to put me on.

SO: Some people were surprised when you continued with your day job. Have you considered giving it up?

RM: No not all. I don't need to work but I keep going back because it's a job I enjoy and they give me the time off prior to fights so if they keep doing that I'll never leave. I've always said that if they carry on giving me the time off, I'll be a world champion still emptying dust bins.

SO: Is there anything you'd like to say in closing?

RM: Like I said before, I'm willing to move anyone out of the way to do my dream and I will get there. Anybody they want trust me. I'm in it to win it and if it means I have to run forty or fifty miles a day in training, I'll run forty or fifty miles a day.
May 15, 2008