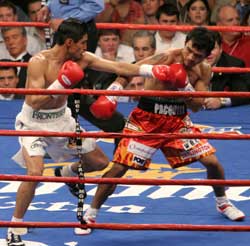 Pac-Man fought great, but not the right kind of great (pic by Tom Hogan)

By Anthony Evans: We're only three months into 2005 but - unless Jennifer Aniston and Angelina Jolie get it on in a WWE style 'bra and panties match' - the Fight of the Year will be Erik Morales v Manny Pacquiao, March 19, MGM Grand, Las Vegas.

There are already plenty of top-quality match-ups signed for the coming months but, without resorting to shrill and hyperbole, it is almost inconceivable that anything will surpass Morales v Pacquiao in terms of thriller/chiller excitement.

Unless the return bout is made, that is. And Pacquiao's trainer Freddie Roach believes not only will that fight take place later this year but that his 'Pac-Man' will avenge his defeat via stoppage.

"It was a great fight, maybe one of the greatest, but we didn't fight our greatest fight," Roach told SecondsOut between training James Toney his Wildcard gym in Los Angeles. "I think we can fight a much better fight in the rematch and I think the rematch is something than can happen next. Morales fought a very good fight, he had great strategy and he pulled it off. But it was close. No complaints about the decision from us but it was a two round win for Morales (all three scorecards read 115-113) so if we'd shaded one more round it would have been a draw.

"And I think we'll take more than just one more round next time. Jose (Morales's father and trainer) told Erik not to do anything stupid in the last round but he stood there and traded to prove that he could and Manny really wobbled him. Erik was hurt two or three times in that round - one more shot and we'd have got the knockout."

But while every minute of the epic was violently contested the consensus is that Morales was just the better man at the MGM Grand. Although he may have lost the first three rounds, once his jab found its range the Mexican warlord, 48-2 (34), took control of the fight and for the most part dictated the fight.

Plus, there was the suspicion that Pacquiao, who began his career weighing just 106lbs, was just a little too small for Morales at super-featherweight (Morales was 123lbs for his first pro fight).

"Morales is a little bigger than Manny," Roach, you just turned 45, conceded. "That maybe an issue but we're staying at 130lbs to go after Morales because that's the fight we want. I think we can make adjustments to be stronger at 130lbs because it does take time to grow into a division sometimes."

Another mitigating factor for Pac-Man's defeat, at least according to the hero-worshiping Philippine press, was the acerbic atmosphere in his camp during fight week. Promoter Murad Muhammad and Roach had a huge falling out when the former signed off on his fighter having to use the Japanese made Winning brand of gloves. Why he did so it somewhat confusing, because not only does the 26-year-old Pacquiao prefer the so-called puncher's gloves, Reyes, but Nevada rules no long require both combatants to use the same brand of mitts.

"There were distractions going in," Roach said. "The situation with the gloves didn't help us at all. We were sold out on that. People say gloves don't make a difference but it is like telling Tiger Woods that he can't use his own clubs but has to use someone else's - it would throw him off his game just a little and you don't want that.

"Bob Arum was taking care of his guy getting it in (the contract) but our guy (Muhammad) wasn't taking care of Manny. It was really frustrating."

But Roach isn't forging excuses or buck-passing here. The former featherweight contender of the 1980s turned trainer didn't disagree when I suggested that Pac-Man was a little too predictable during certain rounds.

"There are a lot of things we will do differently," he began. "I think we underestimated Morales a little. You say Marco Antonio Barrera beat Morales and Manny had people telling him 'You knocked out Barrera and he beat Morales so you'll kill Morales' and things like that. But I've never ever seen Morales better than he was on the night and we'll have to prepare for that better next time.

"There are also (tactical) things we can do better. Manny really hurt Morales to the body a couple of times in the first round and then we kinda let him off the hook."

Then there was, well, not the cruellest but certainly the longest cut of all. A clash of heads opened up a crimson gusher just above the Philippine's right eye in the fifth and his vision was impaired for the rest of the fight. Pacquiao himself believes the gash was a major factor in him losing, saying afterwards: "I couldn't see out of one eye and it was very hard. If I was not cut, I think I would have knocked him out."

Hopefully, boxing fans will get to see Pac-Man try and prove his point.