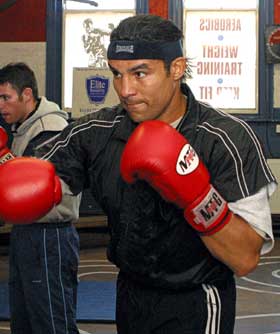 Reid training hard (pic Mr Will)

By Ant Evans: Former WBC super-middleweight champion Robin Reid is about as emotional a fighter as I've come across since I began covering boxing professionally eight years ago. Whereas a large percentage of fighters switch off their everyday emotions when training camp begins, Reid's thoughts and feelings germinate away inside him like bacillus. Particularly if the Runcorn, England counter-puncher feels he's up against it or has something to prove.

The gestation period over, come the first bell, this built up bile can either fuel Reid to scorching hot performances or - just as likely - stick to his person like a cold sweat and choke any sense of purpose in a fight.

Cases in point: against Joe Calzaghe in 1999, Reid was so incensed by the defending WBO champion's fight week insults that he stormed to the ring screaming like the Incredible Hulk and, despite losing the opening three rounds, fought with such intensity and desire that many believed he should have taken the split decision against the Welshman.

Conversely, against WBA/IBF champ Sven Ottke in Germany in 2003, Reid allowed the German's fouling and the woefully one-sided officiating to get the better of him and he mentally switched off, feeling very sorry for himself, in the last four rounds when he should have gone for broke.

So, which direction will the flow of emotions take Reid when he challenges Jeff 'Left Hook' Lacy for the IBF title this Saturday (Showtime televise live at 9pm ET/PT along with a replay of the Corrales v Castillo fight of the decade)?

Quite honestly, such is Reid's temperament there's no way of telling until the first bell. Reid is a paradox wrapped up in a riddle and you never know quite what you'll get once this undoubted talent hit's the ring.

Although he refused to participate in last week's conference call to promote the fight in Tampa, Florida, Reid, 38-4-1 (27), is usually a world-class chatterbox. He certainly had plenty to say when myself and photographer Mr Will visited his training camp in mid-July.

"As far as I'm concerned I can jab him all night like Winky Wright did (Felix) Trinidad," Reid began after a torrid cardio session at trainer Brian Hughes's gym. "I've watched him in his last five fights very closely and I don't think Lacy's aware near this future legend in the making that he's been built up to be. He's good, but he's not the fighter I thought I was facing when I took the fight."

And while Reid believes Lacy, 19-0 (15), is overrated, he also thinks the 2000 Team USA Olympian is under-rating the challenge he faces this coming Saturday.

"Although I know he's been concentrating on me for the last few weeks, I know Jeff Lacy has been thinking about Calzaghe," Reid smiled. "I know he has. He even had a press conference with Calzaghe in Manchester the week of the Ricky Hatton (v Kostya Tszyu) fight. Even if Lacy is thinking 100% on me now, his mind has been on Calzaghe for some of his build-up for me and that won't do him too many favours. I've heard that Lacy hasn't seen the tape of my fight with Calzaghe (Reid lost a split decision in February 1999) but if he had he'd take me more seriously. I've beaten Calzaghe so I'm nobody's warm-up for a fight with (Calzaghe)."

But the consensus opinion is that Reid, now 34 and without a major world title since December 1997, is a fighter in decline. Even Reid himself admits he's blown hot-and-cold since he turn pro in February of 1993; and he's blown more cold than hot over the last six years.

After rejecting what he says was a "pathetic" purse for a rematch against Calzaghe ("Pride allowed me to take rubbish money for the first fight because I knew I'd win, and pride stopped me taking the second fight for just £20,000 more," he said) Reid didn't fight for over a year and when he did return he was beaten by Silvio Branco in a dismal 12 rounder on a Mike Tyson undercard.

He then left promoter Frank Warren and signed with Jess Harding, and, together, the new Team Reid won 10 relatively undemanding fights in a row, eventually earning a world title shot at WBA/IBF champion Sven Ottke in Germany.

'The Reaperman' won the fight, absolutely ad unquestionably, but referee Roger Tilleman's disgraceful bullying of Reid during the bout and the judges' scoring was so blatantly biased it took your breath away.

"It was the worst officiating any (visiting) fighter has ever had in Germany," said Reid in a statement which takes in some width and breadth.

However, despite the fact that the Runcorn born fighter won at least eight of the 12 rounds and scored a knockdown which the despicable Tillerman refused to acknowledge, the Briton was criticised for not going after the knockout when it became obvious the Axis Powers were up to their usual tricks.

Reid responded: "People say I should have knocked Ottke out but when I did knock him down the referee warned me for hitting him! I won the first at least seven rounds of that fight but the referee was taking points off me for nothing and even bollocking (chastising) me for hitting Ottke! In my mind I was at least six points up but I honestly thought I would get disqualified if I did anything. That ref was warning me every 20 seconds - you've seen the tape, you know I'm not kidding. I've been boxing for a long time but I didn't know what to do where it was obvious the referee was just waiting to throw me out for any little reason.

"So I stopped throwing shots and Ottke won the last four rounds but I'd scored a knockdown, well, I was supposed to have, and won seven of the first eight rounds. People have come up to me and said how could I take the decision and laugh (in post fight interviews) but when they rob you so badly in a fight you so obviously won then it becomes so ridiculous that you can't think of it seriously. There's no way that I didn't win that fight.

"Even though I know I'll get no favours in America for the Lacy fight, at least the referee will allow me to punch the other guy back!"

In England, there's a sense that Reid hasn't achieved what he could have and should have.

Conversely, Reid thinks that he's never been given an even break, not by the judges in the fights which mattered most in his career (his WBC title lost to Sugarboy Malinga, the Calzaghe loss and Ottke robbery) and certainly not be the British media.

"People say that I'll be under pressure and have negative things to put up with in America but I've had the same things here in England," he lamented. "Even with the Brian Magee fight, where I knocked the hometown champion down four times, I was (criticized) by the commentators for being this and that and while it was a bad clash of styles I was the one making the fight. I scored all the knockdowns! But, no, it was all my fault the fight wasn't exciting.

"Look at my career, and I've been in at least as many exciting, fan-pleasing fights as ones which weren't so good. Look at the win in Italy for the WBC title (a KO of Vincenzo Nardiello) and the (defences against) Giovanni Pretorius (an unbeaten puncher), Henry Wharton (three-time title challenger) and Hacine Cherifi. People said Cherifi was a rubbish performance but I had a war with him and won and in his next fight he won the WBC middleweight title from Keith Holmes. I don't get any respect."

But that respect would certain come if he can derail the Left Hook Express this weekend. Reid sounded extremely 'up' for the task.

He said: "Lacy's not this devastating puncher, he punches hard but he's not all this and that. Lacy backed Williams into the ropes and Williams just sat their with his arse on the ropes and let Lacy spread his legs and club away. Anyone can get power into their shots if they are allowed to do that. If any big bloke walked into this gym right now he could go over to those (heavy) bags and made a big noise hitting them. So what?

"I expect him to come at me, I don't think he can fight any other way. I've not seen any sign that he can do anything different, although I'm not saying he's not very good at what he does. If he tries to box, sooner or later, I'll draw him into my type of fight. I've got much more experience than Lacy. Much more.

"And that name 'Left Hook' isn't right either because I think his best punch is his right hand. Loads of times he throws his right as a lead to set up his left hook and I hope he does that with me because I'm a counter puncher and I crack him every time he tries that. I've not seen anyone set Lacy up for a counter yet. I've not seen him backed up yet and I plan to do both. Everyone knows I'm a good counter puncher but I know that I'll have to stand in front of him at some point, too, and I'm really looking forward to that because this is my time now.

"If I have to get on the back foot and box as a counter-puncher then I can do that, I've been doing that my entire career, but I am just wondering whether that's the right way to go about this fight. Lacy's is used to fighting off the front foot so maybe it will be best to put him on his back foot and put pressure on him.

"There are different ways to counter-punching and whichever works best against Lacy I'll do. I'll be using a mixture of a lot of styles. All those punches he throws to take people's heads off won't be any good against me. I've got a better defence than anyone he's ever fought and I've never been knockdown or seriously hurt. I can take a dig and like it when people put pressure on me.

"And I think he's underestimated me and that's brilliant. I'm glad they were talking about Calzaghe for a while and not me. I'm happy. That helps me (tactically) and it helps me mentally."

But, that respectable IBO title win over the previously unbeaten Magee aside, this is Reid's first major title fight since the infamous sojourn to Germany in December 2003. And you have to go all the way back to the points win over Henry Wharton (another huge left hooker) in May of 1997 for a truly impressive Reid win over world class opposition. Team Reid can talk about gym training all they want, but Reid hasn't been active over the last two years (only two fights since Ottke) and hasn't been mixing it in top class consistently since his aborted WBC title run of 1996-1997.

And yet he vows this time will be different: "So much has gone against me, the Calzaghe fight, the Ottke fight, I've never had the respect for what I've actually done in my career. But now I've got the chance to get all that back. I know this is my last chance. But Jeff Lacy is made for my style and I know I'll beat him."