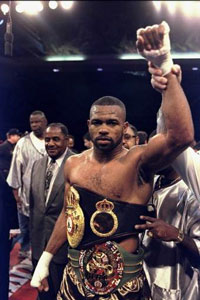 Is he coming back?

By Ant Evans:
Roy Jones Junior's comeback continues to creep towards becoming a reality with the news that HBO has sealed their consent on the former pound-for-pound king travelling to England to take on old opponent Clinton Woods in an IBF light-heavyweight title bout.

It appeared Jones's Hall of Fame career had been ended last year when he was brutally KO'd by first Antonio Tarver and then Glen Johnson. But two weeks ago Jones issued a press release denoting his opinion that the June 18 rematch between Glen Johnson and Antonio Tarver in Memphis were merely 'an eliminator' to earn a return bout with himself.

And now comes word that Jones's Square Ring promotional group are in serious talks with Woods's Fight Academy people to make a fight around September time.

Woods's manager and promoter Dennis Hobson told SecondsOut: "Brad Jacobs (Square Ring boss) has sent a letter confirming that HBO are on board and are happy with the fight. All sides think it is an easy fight to make. We've worked together with Square Ring before and have very good business relationships. One of the major components in getting the fight on - HBO coming on board - has been sorted out and we are very interested in making the fight in Sheffield (Woods's hometown) later this year."

Word is that Jones's fight contract with HBO states if he rematches with an opponent he's already beaten (and Woods was halted in six back in September 2002) he receives less money. However, with Jones in need of a rehabilitation fight after getting brutally KO'd by Antonio Tarver and Glen Johnson last year, it appears HBO and Square Ring have reached some sort of agreement.

Hobson added: "I think Jones wants to fight the winner out of Johnson v Tarver and get his revenge but wants a warm up fight before then. I'm sure Jones also wants the IBF title as a bargaining chip going into that fight and sees Clinton as a soft touch. Maybe Jones thinks Clinton is a vulnerable champion or something but let me say this, there's no way Jones wins this rematch."

Woods, meanwhile, can't wait for the fight to be signed: "The two fights I really want are another crack at Johnson (with whom Woods drew and lost to in a brace of IBF fights) or a rematch with Roy. I'm a totally different fighter than I was in them fights and I proved that by knocking out an unbeaten puncher in Rico Hoye (in February) to win the IBF title. I feel so strong now and can't wait to get back in training and defend my belt."

There's a chance that Woods will be ordered to fight IBF No.1 contender Julio Gonzalez before any Jones fight can take place, though, Hobson said there other big offers are coming in for Woods.

Admitting his fighter is probably in high demand because he's perceived as a vulnerable champion, Hobson said: "We've had other big offers to go outside the UK, too, but turned them down because we think Clinton deserves to have his first world title defence in his hometown. We had a good offer to go to Australia to fight Danny Green but we want to do the fight in the UK.

"I know some people see Clinton as a (weaker) champion but that's great for us because everyone wants to fight him. But, believe me, there's not a single light heavyweight on the planet who will beat him now he's sorted his diet and training out. I watched the tape of the first Jones fight the other day and it looked like a different man. Clinton was so skinny he looked ill. Look at his body in the Hoye fight now he's got a nutritionist on board.

"The only way Roy wins any rematch is on a dodgy decision."

Hobson said the fight, if it comes to fruition, will take place at the Sheffield Arena or perhaps even Sheffield Wednesday Football Club's Hillsbough stadium.