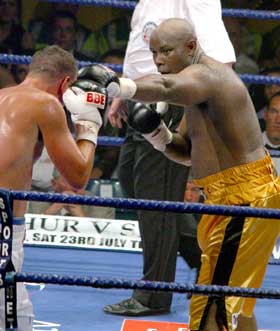 Matt Skelton (right) wants Williams rematch (pic Mr Wll)

By Clive Bernath: Matt Skelton, a split decision loser to Danny Williams for the Commonwealth heavyweight title in London last weekend, has appealed to the Londoner for a rematch.

Speaking to SecondsOut earlier today the 39 year-old from Bedford said: "I would very much like to fight Danny again but whether that happens I don't know. The fight was very close but I think I did enough to win. I'm told he won the fight because of a good last round.

"I came out of the post fight press conference afterwards and asked Danny for a rematch but he said he was not interested in the British scene anymore and wants to fight for a world title. He has no reason to give me another opportunity but if for some reason Danny does not get a world title shot soon then maybe we can do it again. It was a great fight for the fans and I'm sure they would be happy to see a rematch."

It was indeed a great fight for the fans and those watching live at home on ITV, in terms of drama and unconventional rough house tactics by Skelton, that made a mockery of the traditional Queensbury rules. But Skelton insists he does not set out to break the rules.

"My style is not suitable for everyone, I know that," admitted Skelton, "I certainly do not go out there to deliberately hurt my opponents with the head and fail intentionally. You know Danny is not adverse to low blows. He hit me low in the fight but I did not complain, what's good for the Goose is good for the Gander. Yes, Danny did go over the top rope a couple of times but I thought he made a bit too much of it to be honest. My style is not great but some fans came up to me after and said we had a brilliant fight."

A defeat at the age of 39 at championship level would normally spell the end of a fighter's career but Skelton, who lost his unbeaten record, has no intention of retiring and cannot wait to fight again.

"Of course I'm disappointed my unbeaten record has gone and it was a defining fight in my career," said Skelton. "I'm a very proud man. If I'd lost in eight rounds we would not be having this conversation but I feel I can beat Danny next time I really do. It was a very close fight and Danny knows that so he owes it to himself to fight me again."

Regarding future plans Skelton does not know when he will fight again. Ideally the British heavyweight champion would like to defend his title against Welshman Scott Gamer but whether or not that fight happens any time soon will depend on the British Boxing Board of Control. Skelton's British title was not on the line last weekend against Danny Williams but because Skelton lost to a British boxer over the championship distance the board of Control have the right to declare the title vacant. British Boxing Board of Control secretary Simon Block confirmed to SecondsOut that the board's stewards will meet on March 8 to make a decision on whether Skelton keeps the title or is declared vacant.

February 28, 2006.