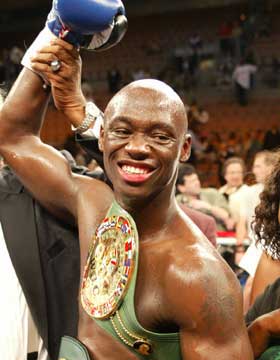 Tarver: "Show me the money!" (pic Tom Hogan)

Interview by Ant Evans: Cocky, charismatic and once again facile princeps at light-heavyweight after settling the score with Glen Johnson a month ago, Antonio Tarver is looking for a big dance partner for his September/October return. And, tantalizingly, the reigning IBO and consensus 175lbs champion's name has been linked in a super-fight showdown with former middleweight champion Bernard Hopkins for October 1.

With the news that newly crowned WBA/WBC/IBF/WBO middleweight champion Jermain Taylor is out until the end of the year injured (his skull took 15 stitches after Hopkins butted him in their Las Vegas bout) Hopkins want the HBO date originally pencilled in for the Taylor rematch. And Tarver, who was scheduled to box around that time anyway, could be coming out of the other corner according to several sources.

"That's the first I've heard about it but of course I'd want to fight Hopkins," Tarver told SecondsOut on Thursday. "You calling me up is the first time I've heard about it but if there's anything to (the rumours) and it isn't just someone using Antonio Tarver's name as propaganda to try and make a move elsewhere then of course I'm interested. As I've said, I want the best available competition which will bring the best money. I'm not getting any younger (36) and my window of opportunity is closing a little more every day."

Tarver v Hopkins has been mooted before and, the Taylor result notwithstanding, it would be a PR team's dream for two of the sport's most outspoken motor-mouths to rev their engines at the pre-fight press conferences.

Tarver laughed: "Myself and Hopkins would put on a classic and, y'know, he's got a chip on his shoulder and I've got a chip on my shoulder, and we'd promote this fight right. We are both great talkers and both pound-for-pound fighters willing to go head-to-head.

"If this goes down I'm ready, I'm in training already and the bigger the (name of) the opponent the better I like it. I'll fight everyone from middleweight to heavyweight, from Hopkins to (WBC heavyweight champ Vitali) Klitschko. But talking is great but it doesn't get me paid: I want some of these big (names) to step up and fight me right now."

The 'Magic Man' added if the Hopkins fight did somehow become a reality, he would consider his opponent to be the de facto middleweight champion of the world despite the Executioner's split decision loss to Taylor in Las Vegas.

Tarver said: "I respect Hopkins a lot and I thought Jermain Taylor did not win that fight Saturday. I thought the decision was a disgrace and it should be overturned. Taylor did a little early on in the fight but it seems the judges gave every round where Hopkins did not dominate to Taylor as a favour. If anyone deserved a favour it was the man who has 20 title defences and all those years as champion, Bernard Hopkins.

"I'm not running down Jermain Taylor. He's a fine young talent but he's not the 'undisputed' middleweight champion. You can't disrespect a champion who's been at the top for as long as a Bernard Hopkins has like that. They robbed him."

Like many who believed Hopkins got a raw deal from the judges, Tarver singled out judge Duane Ford's curious decision to award Taylor the twelfth round when, quite obviously to everyone else, B-Hop owned that three minute stanza.

"That scoring of the last round was critical and cost the man his titles," Tarver said. "Hopkins dominated but that blind-ass judge gave it to Taylor. So if my manager does call me to say Hopkins has come to the table I'll respect him as a fellow champion."

After any major title change, the rumour mill goes into overdrive. Another choice piece of gossip doing the rounds is that Hopkins will face Roy Jones Junior on the October 1 HBO date.

Not surprisingly, Tarver doesn't like that plan so much. He said: "If that is something that's real then both guys are looking for an easy pay-day against each other. I don't think either one of them are really ready to take on the risk that is posed by fighting Antonio Tarver.

"If it was a perfect world, Roy would step up and fight me again because no matter who or what he fights, he's never gonna prove nuthin' unless he faces the Magic Man again. I'm the one who exposed him, not Hopkins, not no-one else. Unless he wants to go the rest of his life with people asking him why he wanted no part of Antonio Tarver he should be a man and get this third fight on."

Tarver, 23-3 (18), believes his record against his heated Florida rival speaks for itself but added that he would have 'zero difficultly' in getting up for a third fight with RJJ. It appears 'the Magic Man' was unamused in the extreme when Jones dubbed Tarver's rematch with Glen Johnson (who also knocked Jones out) merely an 'elimination match' to fight him again.

He said: "That was disrespectful to the kind of champions myself and Glen Johnson are. For him to come out and say something like that you do worry about how ignorant this man is. Myself and Glen Johnson are the conquerors of Roy Jones. We knocked him out. Cold. All Jones is to the fans now and from now on is that guy talking weird on HBO. He's not the great Roy Jones Junior no more. He's not 'RJ' no more. He's just a commentator and I'm better than he is at that, too.

"The contract (for a rubber match) is on his desk. Is he a man of his word? Is he even a man at all? I don't know what make this guy tick but I know in my own heart that if someone knocked me out in two rounds, that's the first person I'd wanna see. I'd want to kick that guy's ass and get some revenge but Roy doesn't seem to be cut like that. If he wants to continue to play it safe they he should keep his ass behind that microphone because the boxing is a serious place where you have to back up your press releases."

Gathering steam, Tarver went on: "One of the most ignorant things Roy's tried to spin is that it was a 'lucky' punch which put his ass down. What's a lucky punch? What's a lucky punch? How can it be considered lucky when I told him exactly what I'd do to him when I called his ass out at the (John) Ruiz (postfight) press conference. I told him in front of the world that he's not even the best fighter in Florida. I told him just like this that the guy ran from me for two years. Everything came to realisation when I actually fought him. I wasn't brained-washed by HBO and everyone else who was riding this (crap) about the great Roy Jones.

"I'm glad god gave me two eyes of my own. I'm glad I can see things for myself - I never ever put the guy above me. Never ever. I put no man above me and that's the reason I can do what I do in the ring. I feel I'm just as talented if not more talented than any other man in this sport. You want to beat me, you have to defeat me, I won't do it for you like all those other guys Roy beat.

"No other fighter can get it done for you (the press) and the fans like the Magic Man can get it done for you. Hopkins, Roy, Klitschko, whoever, I'll be making more major splashes over the next two, three years."