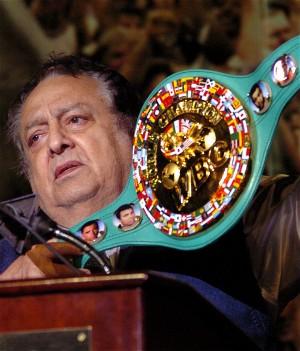 Sulaiman won't be leavung the WBC house just yet

By Dave McKee: Mexican writer, Isaac Guerra, recently predicted the looming ouster of Jose Sulaiman from the Presidency of the WBC. Writing in the online Spanish language publication, La afión.com, Guerra stated that the ranks of the WBC have finally reached a critical mass of discontent with their longtime leader. Claiming to be in possession of numerous emails from unhappy WBC employees, Guerra hints at a coming revolution to be staged in Las Vegas and lead by a respected boxing figure from Texas. "El gallo es Texano", Guerra describes him dramatically.

A well-known American promoter confirms that something 'is definitely happening', though he remained vague about details.

It is one version of a tale boxing fans have heard before: Sulaiman is in the crosshairs, and his doom is fast approaching. Before we plan a gala retirement party for the boxing mogul, a bit of perspective is in order.

Though Texas may not top most fans' lists of politically significant boxing hotspots, the state carries its weight in the boxing world. South Texas, in particular, is a hotbed of boxing industry. Two names that loom large in the sport, and, most significantly in the WBC, belong to Texans: Dick "Dicky" Cole and Steve Crossen. Guerra confirmed by interview that one of these men is involved in the alleged forthcoming coup, along with WBC vice president and former NABF President Rex Walker. An independent source names Cole as the instigator, leaving Crossen out of the political maneuvering.

Cole is the Program Director for the Texas Department of Licensing and Administration (TLDR). As such, he has a direct and significant influence over Texas boxing and, by extension, Mexican boxers who fight in the state.

Cole is also the father of Laurence Cole. Laurence Cole is the boxing referee who was suspended for telling Juan Manuel Marquez he was ahead on the scorecards during a November, 2006 fight in which Marquez was reeling from a serious cut caused by an unintentional clash of heads. Marquez was retooling his career following a recent loss. He won that fight, and in his next bout he challenged Marco Antonio Barrera for the WBC super featherweight title.

Much was made of the apparent preferential treatment by the junior Cole on behalf of Marquez. Many observers also noted that Laurence Cole operates an insurance company that provides liability insurance for boxing matches. A testimonial from Jose Sulaiman on behalf of the Laurence Cole Insurance Agency is available on the website for the company (http://www.boxingcoverage.com/).

Laurence Cole, when confronted with Guerra's story made a simple point: "Do you know how old my dad is?" It is not an insignificant fact. Dicky Cole is well into his eighties. Why would he wish to involve himself in this kind of political move? Beyond the practical consideration of his age, the layers of apparently conflicting interest between the Cole's and the WBC, whether ultimately meaningful or not, would make such involvement against Sulaiman foolish from a business standpoint.

Sometimes there is only room for one conspiracy theory.

Rex Walker responded to Guerra's claims via phone: "This is ridiculous. I know just about everyone on the Board at the WBC. No one is planning anything. You are wasting your time with this story… Look, Jose Sulaiman, whatever you think of him, is the WBC. He has given his life to boxing. He is beloved in Mexico, and he simply can't be taken out of the presidency until he wants to be. He will be followed by his son, Mauricio, if Mauricio wants the position." As for his own involvement, Walker stated that he is quite happy raising horses, running his businesses and enjoying his work with the NABF. He pointed to his own age as well. At seventy-eight years old he is hardly looking to give his life over to a single purpose in the way Sulaiman has with the WBC.



WBC Executive Director Mauricio Sulaiman had extremely kind words for Cole, Crossen and Walker. He said they are all "well connected, intelligent and capable. They are friends of the family." He indicated they would all be excellent WBC presidents and that his father always welcomes anyone to step up when the election comes around every four years.

Of course, no one does. Jose Sulaiman was first elected president on December 5, 1975. He is regularly elected by acclimation, with no competition.

As for Guerra, Mauricio Sulaiman has no kind words. "He is a journalist, a match maker, a promoter and many other things in boxing. He has a clear issue against my father, and his articles are [written] with such low class." Guerra denies being currently involved with the business of boxing in any capacity other than as a journalist, but independent sources confirm his longstanding grudge against Jose Sulaiman.

Guerra's claims of having WBC employees' emails containing complaints about their treatment from Jose Sulaiman is unconfirmed. Guerra agreed to forward the emails, minus identifying markers such as names and addresses, but at the time of this writing has not done so.

Guerra claims the move against Sulaiman will occur this December in Las Vegas at the annual WBC convention. He says a 'jury', attended by the Texan who will seek to dethrone Sulaiman, will convene before the formal meetings and demand Jose 'walk out the front door'. If the president ignores their demand, Guerra is confident the next election will look very different from those of recent memory.

Perhaps there is a kernel of truth in Guerra's article. Perhaps, though it seems unlikely, Las Vegas will see the beginnings of an internal uprising against the WBC boss. However, asking Jose Sulaiman to leave 'through the front door' is a bit of a stretch when the man owns the entire house.

September 7, 2011