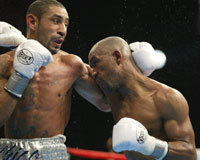 Exclusive by Anthony Evans:

Three and a half years ago Diego Corrales, aged just 23, must have thought his life was more or less over.

He had been knocked down five times, stopped, smashed to pieces, by rival super-featherweight champion Floyd Mayweather Junior in their January 2001 super-fight; his second marriage had ended in divorce and he was facing a year in jail for spousal abuse. Professionally and personally, his life was in tatters.

Fast forward to August 2004 and life is beautiful again. Corrales, a personable, likable fellow who's assault seemed completely out of character and shocked those around him, seems to have been forgiven by the boxing community. He has married again, to a girl - Michelle - who stood by him during his trial and jail-term and last Saturday he scored the biggest and best win of his 39-2 (32) career when he forced previously unbeaten two division champion Acelino Freitas to quit in 10 exciting rounds.

"Absolutely, I feel this win is the final step of my redemption," the new WBO lightweight champion told SecondsOut. "This finally closes the door on that whole period of my life from 2001 and opens the door to the rest of my life. It's been a hell of a year for me and Michelle and we're very happy. We're taking the family to Disney World in the next few days and then going on a cruise. I'm loving life again."

Under the guidance of new trainer Joe Goossen, Corrales has now beaten two major talents, back-to-back, in Joel Casamayor (pictured by Tom Casino) and Acelino Freitas and won two 'world' titles (both WBO) in two separate weight division to boot. He is now the leading contender for 'Fighter of the Year' in most experts' eyes and is now targeting a December unification bout with rival champs José Luis Castillo (WBC) or Julio Diaz (IBF, WBA).

"I'm back at the point I was at before the Mayweather fight," a delighted Corrales beamed. "Knocking out Freitas puts me right back on top. It was an awesome fight."

The scheduled 12 rounder at Foxwoods in Mashantucket, Connecticut, was certainly an exciting one if not the Hagler v Hearns type war some expected. That's because surprisingly Freitas, the much short bomber from Brazil, won most of the first seven rounds by keeping the 6foot tall Corrales on the end of long jabs and right hands.

Corrales recalls: "He did well early on but I kinda expected him to fight like that and for me to have to chase him and then get him later on. That's why I used body work to slow him down so I could get him later on. With him being shorter (5ft 7inch) I had to bend a little more to get his body but I felt I hurt him very early on to the body and I knew then that tactic would pay off for me.

"He's a good puncher but he didn't really hurt me; I can't honestly say he ever hurt me but he hits harder than anyone else I've fought.

Really? Including Mayweather and Casamayor (who put Corrales down thrice in two bouts)?

"Yes," Corrales answered. "But I can deal with the power shots much better now I've moved up to lightweight. Before I was weakening myself to get down to 130lbs; I needed the extra 5lbs to help me absorb the punches. The 5lbs made a big difference."

Partly due to his determined foe's bodywork and partly due to his own efforts to stave off the ever-pressuring Corrales, Freitas, now 35-1 (31), began to tire in the seventh and, almost inevitably for a battle of two massive punchers, was dropped in the eight round.

Corrales knew he had the champion in hot water: "Once he went down for the first time I knew it was over. I knew he was finished because there was no way I was going to let him back in the fight. I knew he was hurt badly even though he got up OK. Then when I put him down again (in the ninth) I knew he was badly, badly hurt and I was surprised that he was able to get up."

Freitas, a cultural icon in his native land who said he 'had to' divorce his wife because he was too big a star in Brazil not to sleep around, clambered off the canvas twice more before, deep at sea, he signalled he could take no more to referee Michael Ortega with a wave of his hand and stroll back to his corner.

It is his curious way of surrendering, getting up to 'prove' Corrales hadn't, in fact, knocked him out, but still refusing to go on, that has lead some to call 'Popo' Freitas a dog (and worse). Had Freitas, who risen from five previous knockdowns in world title fights to always prevail, elected to stay down for the full 10 count, I doubt we'd have half the fuss (didn't Tyson, but the criteria of deciding not to get up for more punishment, 'dog it' v Danny Williams, then?).

Corrales, while asserting that he is willing to take whatever beating to remain in a fight, has sympathy for his fallen foe.

He said: "Freitas got up. He showed a lot of heart not only in this fight but in other fights, too, when he's got up. With me he got up not once, not twice but three times but then decided not to continue; but I thought he did a good job. I was doing a lot of damage to him and he must have know, in his heart of hearts, that him winning from there was totally out of the question. At that point some people begin to worry about your health."

Worrying about the future, hopefully, is something Corrales used to do.

He said: "Right now I'm going to relax with the family and then get back to the gym for another big fight. I love boxing. I want to unify the division before moving up in weight to continue to build what I hope will be a legacy."
Diego Corrales already has etched a very different legacy to the one he seemed destined for just three years ago.