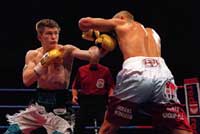 By Clive Bernath: When Ricky Hatton steps into the ring for his latest WBU light-welterweight title defence at the MEN Arena in Manchester on June 5, both the thousands of Sky Sports viewers tuning in to watch the 'Hitman' and the 15,000 plus army of Hatton supporters, will expect to see a genuine world class fighter in the opposing corner.

Up until now the hugely popular 25 year-old has amassed a small fortune by feeding on a diet of over the hill has beens or blown up lightweights on his way to a perfect 35-0-(26) record. You have only got to go back to three of Hatton's last four fights as proof of the aforementioned.

Though American Vince Phillips (l pts 12) came to England with an impressive 44-7-1 slate in April 2003 he was pushing 40 years-old and coming off a loss. And Aldo Rios (l rsf 9), though brave in defeat, was 35-2 before facing Hatton but had campaigned for most of his career at lightweight despite weighing 9st 13 1/2lbs on the night. Then of course a little over two weeks ago former European super-featherweight champion Dennis Holbaek Pedersen (l rsf 6) was drafted in at less than 48 hours notice following the withdrawal of Kelson Pinto.

No one can blame the popular Mancunian for cashing in on his talent financially for the least amount of risk or his promoters for protecting their Golden Goose but there comes a time when all concerned must find out just how good Hatton really is-and that time has now come.

Personally (if only to satisfy my own curiosity) I'd like to see Hatton in with either Junior Witter, Lovemore Ndou, Sharmba Mitchell, Miguel Cotto or Arturo Gatti. In recent weeks Mitchell, Ndou and Witter have all thrown out a challenge to the 'Hitman' but for some reason all three have been sidestepped.

The Witter, Mitchell and Ndou fights can all be made as long as all parties are prepared to be flexible and as far as I understand it there are no political obstacles in the way. No excuses. Gatti and Cotto is a different story, The exciting Canadian born Gatti is signed to HBO while Hatton is with Showtime and as far as Cotto is concerned he is far too young and dangerous to risk against Hatton.

In Hatton's defence he has beaten decent opposition in Eamonn Magee and the world rated Ben Tackie but now it is time for the real genuine tests at world class. Sky Sports has invested heavily in Hatton so too has the many thousands of his loyal fans-they now deserve to know just how good their hero really is. But above all Hatton needs to know himself whether or not he can mix it with the world's best 10st fighters or if he is just another over hyped British fighter that falls short at world level.

What do you think? Who would you like to see Hatton fight next? Please email your comments with your full name and address to editor Clive Bernath at clivetumco@hotmail.com

April 20, 2004.