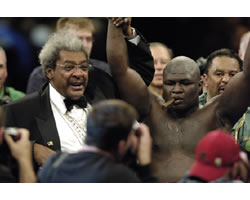 Take that out of your mouth, James!

By Ant Evans: Irrespective that most ringsiders believed defending champion Hasim Rahman had done enough to retain his WBC heavyweight title before the final round, the fact is that had challenger James Toney won the 12th he would have won the Atlantic City showdown and would have been crowned heavyweight champion last Saturday.

In the corner before the final stanza, trainer Freddie Roach impressed upon his weary fighter the importance of taking the final three minutes. "We need this round. Bite down. Bite down!"

But Rahman had taken the same advise in his corner, had taken it to heart, and, much the fresher man despite throwing over 900 shots (a huge amount for a heavyweight), Rahman had the energy to close the show and thus retained his championship on a majority draw.

Toney's promoter Dan Goossen accepts that a lack of later round stamina cost his fighter the WBC title but, despite Toney's Teletubby tribute act waistline and his weighing 237 slothful pounds, believes that Toney actually was in shape last weekend.

"He's 37-year-old," Goossen pointed out, "And I know that he did train hard for the fight. The body is the body, OK, but where I'm going to have a man to man talk with James is about these cigars he's smoking. He has to lay off them for months and months before a fight because his lungs just weren't there in the fight."

Goossen explained: "James has got his own brand of cigar called 'Light's Out Cigars' which he started up last year and in the process of selling it to different entities he's smoking four, five cigars a day and you can't be doing that and also be an elite athlete.

"I know he's been smoking cigars for years but now he's smoking them all the time in order to sell this brand of his. I'm going to have to talk to him about it. It's a shame I didn't do that months and months ago because I really should have."

And Roach told SecondsOut: "That sounds reasonable to me, about the smoking. I don't think any athlete should be smoking at all, at any time, period. That (the smoking) could have had something to do with James fading like he did. He didn't have the stamina he should have had.

"He was a little flat on the night and even early on in the fight he was not the James Toney I've worked with for these years. He was a little off his game and then later in the fight he was struggling with fatigue more than I'd (ever) seen him."

However, there is an alternative theory, one put forward by John Ruiz. As fans will know, Ruiz was outboxed for the WBA heavyweight belt last year only for Toney to get stripped of the title after failing a post-fight dope test. Ruiz is suing Toney for fighting while steroids were in his system.

On Tuesday, Ruiz issue a statement which read: "Toney looked sluggish against Rahman. He didn't have the same energy he did against me, but that's what steroids do. Toney had a lot of energy right through the last round in our fight. If I fought that Toney (last Saturday versus Rahman), I guarantee it would have been a completely different fight. He had to cheat to beat me."

And then there's the third theory which doesn't require the sinister presence or (as the case may be) absence of any drug, both legal and illegal.

Rahman, bigger, stronger, young and much fitter, simply used those attributes to bridge a clear disadvantage in pure boxing talent. Toney is 37-years-old man who has never lived the life of an athlete. He's a smoker, a drinker, a night clubber and admits he's reported to his last two training camps weighing over 250lbs.

Goossen said: "I'll be honest, I'd like to see James coming in 15lbs lighter than he did for Rahman, about 222lbs, yeah. But I don't think the weight was his major problem, I think his breathing was the problem because of the smoking. His wind wasn't there when he needed it."

However, Roach insists his fighter won, despite the HBO commentary team insinuating that the trainer thought Toney needed a knockout to win going into the last round. "I thought maybe James by one point or a draw. I told James in the corner that he needed to win that last round, but he didn't. On the score cards, he'd have won by a split decision, had he won that last round. But he didn't have anything left. But in his other fights at heavyweight James had plenty left in the late rounds but this time he was struggling from an early stage in the fight."

Obviously, Goossen believes a 'smokeless' Toney wins the rematch and will be doing everything in his power to make sure that Toney gets an immediate return at 'the Rock' irrespective of WBC No.1 contender Oleg Maskaev's claims.

Goossen said: "The wording from the WBC was that Maskaev fights the winner of the Hasim Rahman v James Toney fight. There was no winner in the Hasim Rahman v James Toney fight and so a rematch is required to find out who defends the WBC title against Maskaev and I and (co-promoter) Don King will be doing everything I can to make sure than happens immediately."

Roach would also favour an immediate return. He said: "I'd want James to get the rematch right now, to stay in the gym and, plus, he's 37-year-old and time is moving on for him. He needs to take advantage of his skills right now. I've seen no real signs of determination in James but we have to move quickly with him.

"James will do much better next time. I think he will realise that he has to come in lighter next time and be better for it. I also think that's the best Hasim Rahman can do with James Toney but that's not the best James can do against Rahman."