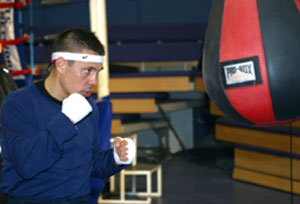 Tszyu hits the bags (pic Mr Will/Hogan Photos)

By Clive Bernath: Much has been made of the fact that undisputed world light-welterweight champion Kostya Tszyu could be past his sell by date at 35 years of age when he defends IBF crown against a 26 year-old primed Ricky Hatton at the MEN Arena in Manchester on Saturday night. And for that reason alone many respected 'boxing experts' in the trade believe that the Manchester 'Hitman' can upset the odds and hand the 'Thunder from Down Under' only his second professional defeated in 34 starts.

As an Englishman I'd like nothing more than to see British boxing's favourite son topple the Russian born Australian national, firstly because Britain is badly in need and long overdue a genuine boxing icon to reignite interest into a rapidly diminishing British fight scene, and secondly because I honestly believe a Hatton victory will guarantee ITV will spearhead their return to professional boxing with a new superstar-thus recreating interest in our sport nationally on terrestrial tv.

However, before any of the above can bear fruit Hatton must turn back the challenge of one of the great 10st fighters of all time. As I said in the opening paragraph many people, especially in the UK feel Tszyu is on the slide but I am not one of them. I have followed the former world amateur champion's progress ever since he out-pointed the classy American Vernon Forrest to strike Gold at the World Amateur championships in Sydney, Australia 14 years ago and I believe he is in as good a shape as ever. For those who compile records Tszyu won an incredible 259 amateur bouts from 270 starts. Yes, the Pony tailed Russian is a fighting machine, a true professional and a genuine throwback fighter of a bygone age. And today's (June 1) Media workout in Bolton did nothing to disprove my belief.

Myself and about fifty other members of the press were present at Tszyu's private training camp adjacent to the Reebok Football Stadium to witness the 35 year-old IBF junior-welterweight champion conduct a two hour training session that included 30 minutes skipping, a number of rounds on the heavy bag, pad work (for which all media were ask politely to leave the training area until finished) plus flexibility and mental toughness exercises.

For me Kostya Tszyu is the consummate professional for the following reasons.

1/ He is an exceptionally strong fighter. His physical strength has steadily improved over the years because he has never allowed his body to get too far out of shape.

2/ Tszyu has prepared meticulously for 14 weeks for every fight since losing to Vince Phillips in May 1997. The Russian born Australian citizen starts off with basic training for two weeks, followed by two weeks fitness and conditioning training at the Australian institute of sport then goes to camp for eight weeks sparring and technique work before arriving at the fight venue two weeks prior to the fight to complete his final preparations.

3/ Team Tszyu is made up of arguably the most well balanced back room team in world boxing today. One of the world's most respected trainers Johnny Lewis calls the shots in the ring while Kostya's ever youthful father Boris is his personal mentor. I'm also told boxing and business manager Matt Watt is excellent in dealing with all the financial day to day matters. Kostya also relies on the skills of a tour manager, publicist Kristy Doyle, strength coach and a masseuse as well as a personal body guard to make sure team Tszyu running smoothly.

4/ Tszyu's ability to adapt to any given style is unrivalled as 31 wins (25 ko's) from 32 starts proves. Tszyu is also very accurate with the right hand, he also systematically breaks down the very best fighters and has vast experience.

5/ And probably the most important of all is his mental toughness. The main reason Tszyu is taking the Hatton fight is because he wants to test his mental strength by facing Hatton in front of the Hitman's own 22,000 volatile crowd. He wants the challenge of having to block out all the distractions.

Regarding facing such hostility on Saturday night Tszyu said today: "I can expect lots of noise. I have been in many fights and been to stadiums for big rugby or soccer matches. It will be a similar feeling and I am expecting this. I am coming to the ring in my tunnel that is blocking every noise and it doesn't matter what is happening around me. In the ring, there are three of us only.

"There is pressure for everybody. There is pressure on me because I am world champion defending my title against a great undefeated fighter. There is pressure on Ricky Hatton fighting in front of his fans in his first big world title fight. There is lot of big pressure. Who can handle it? I have been in the business for so many years. I have been under this pressure for so many years. I am experienced with this."

When you consider all of the above and the fact that Tszyu has had five less fights over a longer period and against far more capable opposition than Hatton it really is difficult to make a case for a Hatton to win despite a perfect 38-0 record. Even with Hatton being Tszyu's junior by some nine years I still believe Kostya will prevail in a much closer fight than expected.

What you think. Will youth triumph over age and experience?

Please email your predictions together with your name and where you come from to Editor in Chief Clive Bernath at clivetumco@hotmail.com

The best predictions will be published on Friday.

June 1, 2005.