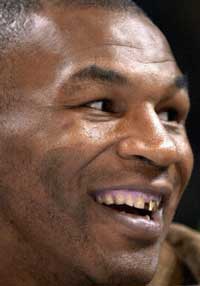 Will he be back? Again?

Interview by Ant Evans: When a forlorn Vitali Klitschko, his giant body under siege by injuries for nearly a year now, retired on Wednesday promoter Don King was able to finally cry 'checkmate' in one of the longest games of political chess in his Hall of Fame career.

Whatever your opinion of King, the way he manipulated the board to corner the elusive WBC title was worthy of Garry Kasparov. Manoeuvring Hasim Rahman into the mandatory contender position for Klitschko on the basis of beating Kali Meehan (knocked out in 32 seconds by Klitschko's first challenger, Danny Williams) was impressive opening. The masterstroke came in August. As Klitschko's postponements piled up, King pressured the WBC into allowing an 'interim title' fight between Rahman and Monte Barrett, another highly ranked King fighter.

King explained to SecondsOut: "From day one I knew he was never going to fight Rahman. From day one. This is a guy (Klitschko) who has never fought a mandatory challenger, when he was WBO champion or WBC, and he likes to hand-pick his opponents. The thing with the WBO was that he had Klaus-Peter Kohl (the vastly experienced and powerful German promoter who handled all but one of Klitschko's fights) helping him but without Kohl you saw what happened. Without Kohl, Klitschko was discombobulated.

"With all the pull outs and excuses I recognised the situation and rectified the situation. I went to my fighter and said: 'This guy isn't gonna fight you but if you fight Monte Barrett for the interim championship (and win) and Klitschko pulls out again you automatically become the champion under the WBC rules'."

And that's exactly what happened.

With Rahman, WBA champ John Ruiz, WBO champ Lamon Brewster and IBF champ Chris Byrd in various stages of disgruntlement with their promoter, it would perhaps be a stretch to say King 'controls' the four major belts. However, he at least has a clear field to initiate a tournament. Boxing's flagship division has been at half-mast since Lennox Lewis abdicated in February of 2004 and maybe, just maybe, an elimination tournament would spark some interest.

"There are a couple of fights that have to take place first," King said. "The WBC have to rule that Rahman fights someone next (probably Sinam Samil Sam, who is booked to defeat aged Oleg Maskaev in a WBC eliminator on Nov 12) and Johnny Ruiz goes to Germany (Dec 17) to fight this giant (Nico Valuez). There's a little way to go but the tournament is on for next year."

Yet, as my colleague Tom Hauser asked the other day, what if HBO or someone decide to do a rival tournament featuring Wladimir Klitschko, James Toney, Cal Brock and Sam Peter? Which one would you prefer to watch?

King may well have all the belts, but what he most certainly does not have in his title-wielding quartet is a star. Rahman hasn't beaten a top contender since his one-punch KO of Lennox Lewis in April of 2001, and while Brewster can be great to watch his profile is even lower than those of Ruiz and Byrd, whose outings are tantamount to torture to witness.

King had tremendous success in 2001 when he took three unappealing middleweight champions - Bernard Hopkins, Williams Joppy and Keith Holmes - and put them into a title tournament but, of course, he had the supernova star power of Felix Trinidad to attract fan and media attention. There's certainly no 'Tito' in the heavies right now...

"Yes, I wish I had a star like Tito in this but I wish I had a Tito to put on a card 365 days of the year," King said. "The thing about a tournament is these fighters will have the opportunity to become stars. They can seize the day and with their performances become stars."

But, for good measure, King said he will be inviting aged legends Mike Tyson and Evander Holyfield to enter his tourney.

"I am interested in working with Mike again," King said. "Provided that he does the proper things in training. He's had some bad losses of late but there's no reason Mike Tyson cannot win the heavyweight title again. He is only 38, George Foreman, a man who has similar punching power, won the title back at age 45. If Mike can dedicate himself to training again and can (promise me) that he is able to do that then yes, I will give him a chance to create history all over again."

Tyson hasn't held a version of the world title since he was KO'd by Evander Holyfield in November of 1996. And, worse still, he retired this summer after quitting - following lowly Kevin McBride's refusal to fall down -in what was supposed to be a mismatch. Tyson has made it quite clear that he doesn't want to fight again - ever - but, then again, he needs the money. Tyson v Holyfield III would be a guilty pleasure but one which people would pay to see.

King added: "And Evander Holyfield has his licence back and he can be part of all this, too. He lost to Larry Donald who is a different kind of fighter but the 'Real Deal' can be a factor, too."

Holyfield holds a win over Rahman, is 1-1-1 in a dreary series with Ruiz, and was beaten out of sight by Byrd. He was placed on medical suspension by the New York State Athletic Commission after his alarming performance against the light-hitting Donald last November and, determined to fight on even at the age of 43 and with only two wins since September of 1998, was considering offers to fight in Europe.

However, the NYAC's Hugo Spindola confirmed to SecondsOut that the former undisputed champion has been taken off medical suspension and placed on 'administrative' suspension, meaning that while Holyfield will never licensed to box in New York again, other commissions in the US are not required to follow suit anymore.