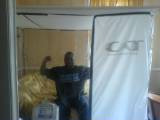 Danny sent SecondsOut this pic of his bedroom using his mobile phone

By Ant Evans: After narrowly beating marauding Matt Skelton in a brutal and breathlessly exciting 12 rounder in February, Danny Williams has turned to the latest hi-tec sports science as he prepares for the eagerly awaited return bout, scheduled for the Millennium Stadium, Cardiff, on July 8.

And, after months of swearing everyone around him to secrecy, the 'Legend Killer' has revealed that he has been sleeping and training in £30,000 oxygen tents, identical to those used by the world's best endurance athletes to augment their stamina levels/

"When I beat Skelton again, I get a second world title shot so I've really pushed the boat out in this training camp," Williams told SecondsOut. "My trainer, Jimmy McDonnell, has used his contacts to get me two state-of-the-art oxygen tents, used by the top Olympic and ultra-endurance athletes, and I've been using them day and night in my home and in the gym for the last two and a half months."

The tents work by greatly enhancing the body's capacity to drink in and burn oxygen while operating in the furnace heat of top competition. The lack of oxygen forces the body to produce vast quantities of new red blood cells, responsible for carrying the oxygen around the body, in order to maximise the body's uptake of what oxygen there is available. When that same athlete is then put in a more normal altitude, those 100,000s of extra red blood cells enable him to take in and use many times the amount of oxygen a non-altitude trained athlete can, resulting in huge boosts in stamina and recovery time.

McDonnell explained: "Boxing training hasn't developed since the 1960s, whereas every other sport wouldn't dream of using 40 year old training methods today. For this fight, we've brought boxing training into the 21st century.

"If you look at the Iron Man events (cycling, swimming and then a Marathon back to back) or long-distance cycling or Marathon running all the elite athletes are concerned with increasing their red blood cell counts. This is exactly what we have used the o2 tents for with Danny.

"In training he has been performing to a level that an athlete who hasn't trained in o2 tents just cannot match. It is now impossible - repeat impossible - for Danny Williams to get tired and believe me I've tried my very best."

According to research, o2 tents are preferable to simply going away to train in a high-altitude country partly because random factors like heat, air moisture, wind chill etc are eliminated.

Jimmy Mac added: "Thanks to sports science guru Bill McEwan, Danny has been sleeping and training in these tents for two and a half months and we kept it totally secret in case Skelton tried to copy us."

Williams said: "The tent I used at home, the one I've now brought with me to training camp, fits around my bed. I sleep at 13,000 ft and I am spending 12 hours a day in here, sleeping, relaxing, watching TV, talking on the phone, whatever. Even when I am sleeping I am getting fitter."

And so was Danny's wife and mother of his two daughters, Zoe, before Williams -and the tents - went to camp in Doncaster.

"Actually, Zoe handled it a lot better than I did at first," the Legend Killer laughed. "I was a little breathless while getting to sleep the first week but Zoe didn't have any problems at all. But as I got used to it I turned the altitude controls higher and higher and for the last month I've been sleeping at the equivalent oxygen level of more than a third the way up Mount Everest (29,028ft), just without the frost bite."

The second, much larger o2 tent has been installed in the gym. Costing over £25,000, this second piece of equipment has been used for all Williams's padwork and circuit training.

Williams said: "We train at around 9,000 - 10,000ft. My lungs and body are now used to operating at 100% despite having little oxygen but, when I train, my body is drinking in oxygen and is boosting my stamina like you wouldn't believe. I feel like a cyborg or a super-hero, I feel that good. I cannot remember the last time I got tired.

"My power and speed have improved, also. And, after years of people telling me to try it, I am finally taking supplements like Creatine and the results are just unbelievable. I knocked four of one of my sparring partners teeth in with a jab - just a jab - on Monday."

But while Williams is feeling the benefit of his new, 21st century training, his trainer is feeling the pace. McDonnell, a former European champion who has the reputation as one of the fittest trainers in the world, admitted that he has been left gasping for air during pad-work sessions in the tent.

He said: "I am fit - but I can't handle it. We were doing pad-work in there the other day and after each round was over, I'd have to get out of the tent for a minute just to stop myself fainting. But Danny stays in there and is fine because he's conditioned his body to working at maximum even if there is little air available. And we're fighting Skelton next month in the open air - so Danny's body will just drink in all that o2 and he'll be absolutely unstoppable. Danny has shattered all his running records in this camp, taking seconds and second off his previous bests. It is like training a different athlete.

Jimmy Mac added: "Matt Skelton would last one round of even light training in there. He'd feel sick, throw up and faint and have to be carried out. But it is too late for him to get his own o2 tent. You have to spend at least four weeks using them for the benefits to kick in.

"And not only has this brought Danny on to unbelievable levels of physically fitness, but it will psychologically damage Skelton when he reads about this. He knows deep down in his heart that Danny had more stamina than him in the late rounds last time even without all this.

"The gap in stamina will be just massive this time around. I think Skelton will be terrified when he reads this."