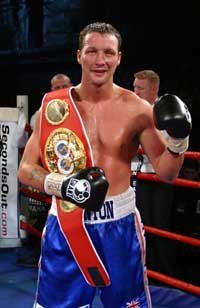 A proud Clinton Woods shows off the IBF belt after defeating Rico Hoye (Mr Will)

By Clive Bernath: When Clinton Woods impressively banged out favoured American Rico Hoye to claim the vacant IBF light-heavyweight crown little over a year ago it was not only the culmination of tremendously hard work by Woods over 11 tough years as a professional but it also cemented the special relationship between arguably the most successful partnership in British boxing at this present time.

The 33 year-old champion from Sheffield trades on toughness and determination and the same can be said for his long time friend, manager and promoter Dennis Hobson, whose perseverance in taking Woods to a genuine world at the fourth time of asking is testament to his faith in his friend.

Many could have forgiven Woods for retiring after gallantly losing to pound for pound king Roy Jones Jr for the undisputed world light-heavyweight title in September 2002, after all he had won British, Commonwealth and European honours up to that point. But no, both Woods and Hobson decided to carry on and pursue the elusive world title for a second time. In fact Woods was to draw and lose on points to the equally determined Glengoffe Johnson before destroying Hoye and fulfil his dream of claiming a genuine version of the world crown.

Amazingly though Woods had no ideas of grandeur when he first turned professional.

"I only turned pro for one reason," said Woods, "And that was to keep fit. I had no illusions about winning anything not even a Central Area title.

"I never really thought I could win anything until after I lost to David Starie. It wasn't until I lost to him that I thought I could start winning something other than the Commonwealth title."

"From Day one Dennis (Hobson) has been there in the gym, mucking in and training, we had some good sparring sessions together," Clinton remembers. Dennis laughs and points his right index finger to his brain and says, " I've got a little more up there (brain) than him so when he started getting a bit useful I thought I'd start making excuses and not spar with him anymore."

So what is the secret of Hobson's incredible success in providing the Sheffield hero with so many championship title fights and Woods' rejuvenation?

" I think my business interests and experience obviously helped," said Hobson. "At the end of the day if you've got nothing to sell it does not matter how good an operator you are if you do not have the commodity you can't do a lot. I believed in him (Woods). When he lost to Johnson (Glen) some people were saying to me that when Clinton gets into a big fight do you think he sort of freezes? And I thought to myself I know Clinton I know what his character is like.

"The Jones (Roy) fight were a big thing. I thought he had over trained and I blamed the trainer. Two weeks before the Jones fight his muscle definition had gone and obviously after the second Johnson fight it had become apparent when he punched his body to a certain level the body was not replenishing itself. There were something not right with his metabolism. After the second Johnson fight we sat down and we said to Clinton what do you think? And he said 'I've been getting tired a lot'. He were getting irritable and I said right lets go to a doctor and get some blood tests done.

"If you look as his physique now to what it was when he fought Roy Jones. Clinton went and got himself a weight training programme, a nutritionist, sorted his blood out and now he's a totally different fighter, the finished article now."

On May 13, Woods, 38-3-1-(23), makes the second defence of his IBF light-heavyweight crown against an as yet unnamed opponent. The venue is likely to be in Sheffield, Woods' home City and you bet your life that whoever he faces in the opposing corner will be in for a very tough fight indeed.

March 16, 2006.