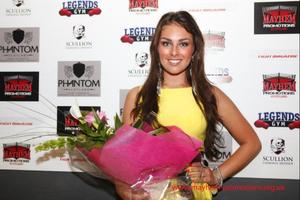 Overall Winner - Megan Currie



Friday was fight night for sixteen beauties attempting to battle their way into the Mayhem Boxing Babes camp for 2011.


 


After two exhausting rounds of modeling, only five girls would progress.  In between there was an excellent dance performance from the Scottish Rockettes and a very successful raffle.  After the modeling was complete it was all down to a special panel of judges.


 


The decision makers were former British welterweight champion Kevin McIntyre, former Commonwealth super featherweight champion Ian McLeod (World Celebrity Boxing), Rockettes manager Carol Anne Deeney and Mayhem Babe Ellie "Left Hook" Eddington.


 


The judges named Natalie Gallagher, Dee Lincoln, Lauren Crainie, Lori Bain as the runners up, while the overall winner was Megan Currie.  All girls are now part of the Mayhem Babes brand, as it continues to get bigger and better.


 


This was a great social event for Scottish boxing, which gave fans a chance to mingle with fighters and raise profiles accordingly.  Due to the huge success, and positive feedback, Team Mayhem promised to make the show an annual occurrence.


 


Team Mayhem would like to thank everyone who took part, including the audience, who created a simply wonderful atmosphere.  Mayhem Promotions would also like to acknowledge their staff, without whom, events of this caliber would not be possible.


 


'Let the MAYHEM begin!' and the may this exciting journey continue...