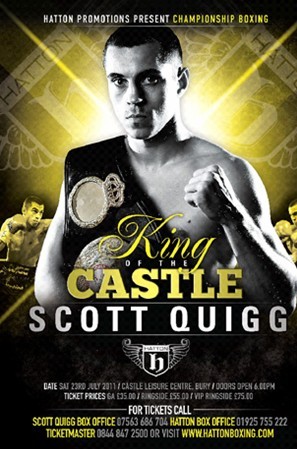 Scott Quigg Poster

Franklin Varela is promising to land a peach of a shot and shatter Scott Quigg's world title dreams next week.

Quigg, 22, faces the Venezuelan in a WBA world super-bantamweight title eliminator at Bury's Castle Leisure Centre on Saturday July 23.

In the organisation's latest published rankings Scott is rated seventh, with Varela just behind him at number 11. Quigg's WBA inter-continental crown will also be on the line.

Whoever wins the Bury brawl will be elevated higher and close to a crack at new champion Rico Ramos.

Varela, 33, who has won 19 of his 24 contests believes that defeating unbeaten Quigg will help him to give up his job as a fruit salesman in Caracas.

The dad-of-four added: "I am training very hard and want to give a good show for the fans and I don't care whether the win comes on points or knockout.

"I have looked at Scott. He is a good boxer and quite tall for the weight, but he is not the best opponent I have faced.

"I lost on points a few years ago against Anselmo Moreno who is a super fighter and best bantamweight in the world.

"It will be my first trip to Europe but I have boxed away from home in Colombia, Haiti, Mexico and Panama so I know what to expect."

The fight was made by Hatton Promotions director of boxing Richard Poxon and their international agent Philippe Fondu.

Belgian Fondu added: "Scott is now being let off the leash and like a lot of Hatton Promotions fighters closing in on a world title fight."

Quigg who is also due to meet British champion Jason Booth in October has won all 21 pro fights.

The last few tickets for show are available priced £75(VIP Ringside), £55 (Ringside) and £35 General admission and available from www.brandhatton.com /0844 847 2500/ 01925 755222

The card will be available to watch for fee from 7pm on Sunday 24th July with commentary from Phil Duffell and Micky Cantwell. Simply log on to http://www.hattonsports.tv/tv/tv-player.