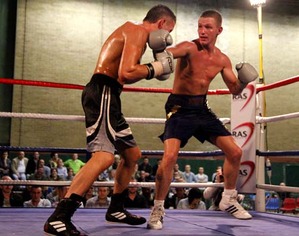 Jones and Cooper engage in battle (pics Ciaran Gibbons)

By Ciaran Gibbons at ringside: Ex British champion Steve Sims promoted an excellent night of boxing in a packed Aberdare Sport centre,South Wales on Saturday night.

The main event was was between Barrie Jones and Gary Cooper for the Welsh light middleweight title. Jones controled the action with rapid straight shots and slick boxing for most of the 10 round fight and won the decision by the referee. However, he was made to work very hard for it and Cooper had his moments landing solid shots to head and body in an exciting fight that had both sets of fans cheering them on.

In the main support local heavyweight Dorian Darch won a four round desison against Rolandas Cesna in his third pro fight.Darch won every round but was caught by good counter right hands throughout the fight. Cesna only just made it to the final bell as Darch threw every thing into getting his first pro stoppage.



Lance Sheehan blasted out Ray Akhtar in a one round blitz that left Akhtar face first on the mat.General opinion ringside was that the referee let the fight go on to long.

Liam Williams won a four round decision in a tough first pro fight.Williams is trained by Vince Cleverly and managed by Gary Lockett.His opponent Ryan Clark clowned his way through the fight but was no match for the skill of Williams.With his skill and connections Williams could go a long way.

Anthony Trow was stopped in round 4 by Jason Ball to cause a minor upset.Ball hurt Trow in round 3 and kept the pressure on until he got the stoppage in round 4.

November 19, 2011