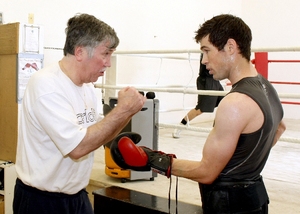 Murray in training camp preparing for title shot

It could be a huge European weekend for the Andy Murrays –with the high-profile Tennis star gunning for Grand Slam glory in the French Open, and the quiet unbeaten Irish boxer taking on Gavin Rees for the vacant European Lightweight title in Cardiff this Saturday, live on Sky Sports 1 from 10.30pm.

The 28 year-old from Cavan isn't bothered about sharing a name with the grumpy Scot though, and with the Tennis version a big boxing fan, there's a chance that the World number four could be ringside at a show one day.

"It's a bit of a laugh and it doesn't cause me too much bother!" said Murray – who is aiming to extend his winning pro record to 25 fights. "He loves his boxing so maybe one day he'll come and see me fight – or even get in the ring with me if he fancies it – a bit of Murray on Murray sparring!"

That sort of photo opportunity is the kind of thing the Sky Sports News cameras and newspapers crave, but Murray is not one for the limelight. He comes into the Rees fight on the back of his first full pro training camp with trainer John Breen and the remote location of their base in the hills of Connemara in County Galway says a lot about Murray – a secluded peninsula away from the hustle and bustle of city life.



"It was my first proper training camp as a pro so being away from home for so long has been tough," said Murray. "But when I was an amateur I did it so I knew what to expect though and being in the middle of nowhere has helped – there were no distractions and it's a really peaceful place so I've been fully focused on my training with everything I need around me.

"Training's been great – it's been really tough but I've reaped the benefit and I'm in great shape, so I can't wait to get in there."

Murray turned pro in March 2005 after a decorated amateur career that saw him bag several medals and the 2003 Young Boxer of the Year award in Ireland. He landed the Irish Light-Welterweight and Lightweight titles in his first 13 fights before a unanimous points decision against Daniel Rasilla earned him the EU Lightweight title in March 2009.

His last outing came against Graeme Higginson at the M.E.N Arena in Manchester on the undercard of stable mate Paul McCloskey's World title fight with Amir Khan in April. It was Murray's first fight in five months and the benefit of his points decision against the rugged Scot in front of a sell out crowd was two-fold.

"I'd been out of the ring for a while so it was a case of getting back into the swing of things," said Murray. "It was a dangerous fight too as I was fighting a Hatton fighter on a Hatton show so I didn't want to give anything away as you never know. I boxed nicely enough in the first few rows and I held on to get the victory which is what I needed to do, as well as get valuable rounds under my belt.

"It was a great learning experience for me to be involved in such a massive night of boxing – so topping the bill tonight against the home fighter in Cardiff is not going to be a problem at all.

Murray holds a significant height advantage over Rees and Irish legend Barry McGuigan believes their fight "is going to be a stunner of a clash – a fight of the year contender".

"He's not far wrong," said Murray. "Our styles are the perfect mixture for a great fight. Gavin's such a hard-working boxer and a top performer, he fights in spurts so I'll have to be busy the whole fight and keep him on the end of my jab."

The victor could end up mixing it in World title circles by the end of the year but Murray has his mind focussed on Rees, citing the fate of another unbeaten fighter whose words came back to haunt him in a recent title clash.

"I'm not going to look beyond this fight," said Murray. "If you talk about what you are going to do in the fight to your opponent or what big fights you've got coming up soon, you can come unstuck, just ask James DeGale."

Tickets for the Gavin Rees v Andy Murray European title clash and full undercard are now on sale priced £30 unreserved and £50 ringside from the Motorpoint Arena Box-Office on 02920 224488. For VIP packages contact Sport and Stage on 02920 234 567 www.sportandstage.com