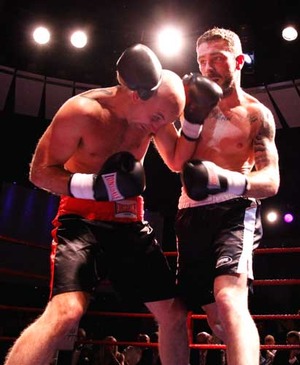 Ware battles Parkings (all pics by Ciaran Gibbons)

By Ciaran Gibbons at ringside: Promoter Paul Boyce staged an entertaining five bout card at the Oceana nightclub in Swansea, Wales on Friday night .A large and enthusiastic crowd turned out to cheer on the local fighters.

Ricky Own V Janis Puksins 4 x 3
Owen Started the fight well landing good body shots and controlling the action with a good jab and forcing Puksins onto the back foot. At the end of round two Own got caught with several hard shots but the bell ended the action. Owen forced Pukins back for the rest of the fight landing hooks to both head and body. Own won on points 40-36

Chris Ware V Simon Parkings 4 X 3
Chris Ware blitzed Simon Parkings from the first bell and did not let Parkings into the fight. Parkings tried the odd counter punch but Ware did not stop throwing power shots forcing him into the corner leaving the referee no choice but to stop with Parkings still on his feet. Ware won the fight but looked exhausted after his non stop attacks.



Darryn Bushbye V Matt Scriven 4x3
Good workman like display by ex paratrooper Darryn Bushbye .It was unclear what caused the cut above Bushbye's right eye in the first round but this did not stop him winning the four round contest by a score of 40-36.

Also on the card Leon Lasher Findley scored a first round stoppage win over Andrew Patterson and Ian "Ianto" Jenkins out-pointed Hayden Chick over four rounds.

September 16, 2011