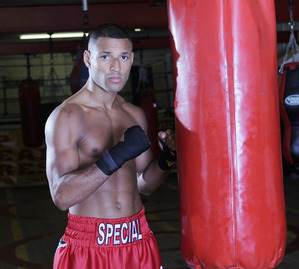 KELL BROOK90

By Andrew Wake:

Sheffield's undefeated Kell Brook aims to do something the world's best have been unable to in his home city this weekend.

Miguel Cotto, Junior Witter and Saul Alvarez hit Lovemore N'dou with all they could muster and yet didn't finish the South African-born Aussie inside the distance.

24-year-old Brook will attempt to be the first to turn the trick at the Hillsborough Leisure Centre on Saturday night. On the line will be the vacant WBA Intercontinental welterweight strap.

"You don't get paid for overtime. If I hurt him, I'll stop him," Brook told SecondsOut. "Lovemore N'dou is a two-time world champion, he's been in with the best and he's never been stopped. We all know he's tough and very game but if I can get him out of there, I'll get him out of there.

"The main thing though is to put on a good performance for the fans. I just want it to be exciting for the Sheffield people who are coming out to support me."

That crowd will certainly add a unique intensity to the venue come fight night. It's Brook's first appearance in the Steel City for seven years and he has personally shifted over 600 tickets, putting paid to claims he's not a draw.

"It's a homecoming and it's a complete sell-out," Brook enthused. "All my old school teachers are coming, all my family are supporting me, and I think I'll know most people there. I'm looking to put on the display of my life for them.

"To be honest, I think I should have boxed in Sheffield more in the past. For my other fights the fans have had to travel down to London or other parts of the country, they've had to have money for their tickets, for their beer, for hotels and that so it's a dear do, but when it's in their backyard it's more convenient."

The self-styled "Special K" has recently left Frank Warren in favour of Matchroom Sports and sees the promotional company's charismatic head honcho Eddie Hearn opening doors for him at world level.

"I'm in the top ten with the WBA and I want to get ranked by all the other governing bodies," Kell stated. "If there's a title chance out there Eddie will grab it with both hands and I'll do the business when I get in there for it.


"I first spoke to Eddie at Prizefighter and the things he told me were music to my ears. He's a young promoter, he's ambitious and we're on the same page. He's a breath of fresh air to boxing.

"He's got Darren Barker a world title first and he's promised me a world title as well. I think this is a company that's going to deliver and one I'm going to be for a long time."