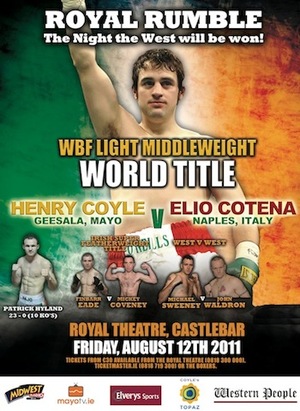 Henry Coyle poster August 12

County Mayo's Henry "The Western Warrior" Coyle returns home next month when he challenges for the WBF Light Middleweight title against Italy's Elio Cotena at the Royal Theatre, Castlebar on Friday, August 12th.

The Chicago based Geesala native will headline a bill which also features Dublin's undefeated Patrick "The Punisher" Hyland and a host of local talent on the undercard including an Irish title tilt for unbeaten Westport native Finbarr Eade and an eagerly anticipated all Mayo duel between John Waldron and Michael Sweeney.

Coyle says he's determined to make it a night to remember for his home fans and a night to forget for Cotena. "I've been part of a couple of big nights of boxing already here in Castlebar on the undercard to Bernard Dunne and Andy Murray so it's great now to headline a bill at home and in a world title fight.

"The Royal Theatre is a fantastic venue and it's brought some of the worlds biggest entertainers to Mayo and hopefully this will be a night for the people of Mayo to savour as well. I've been training hard in Chicago because I was hoping that something big like this would come up.

"My last fight was in May but after that it was straight back in the gym. I've had to break training camp to come back home for the press conference but it will be straight back to business again in Chicago when I get back and then the countdown will really be on to fight night."

The tagline for the event is "The Night the West will be won" but Cotena is promising to spoil the party by taking the WBF title back to Italy and it's hard to argue with his bloodlines. His grandfather, also Elio Cotena represented Italy at the 1968 Olympics before going on to win the European Featherweight title as a professional and his grandson is determined to emulate his namesake's success.

"He's got fighting pedigree in his blood so you have to respect that and his achievements to date," admitted Coyle. "He recently won the IBF Mediterranean title up at Middleweight and I've watched that fight but I will let my trainer, Sam Colonna and my Dad study it in a bit more detail and I'm sure they will come up with the right game plan for the fight to make sure that the WBF title gets a new home in Mayo."

Father and manager Gerry is hopeful that next month's bout could be the start of some big nights of boxing in Mayo. "This will be a huge night for Geesala and Mayo," said Coyle Senior. "We're very confident that it will sell out quickly. The interest already has been phenomenal and the support we've had locally has been unbelievable. The fight will be on the same weekend as the Geesala Festival and there will be a huge crowd of people home for that from the US and the UK and they have always been great supporters of Henry right from his amateur days. There is a terrific undercard as well with some of the best in the west in action so hopefully it will be a famous night for Mayo and the first of many more.

"We are determined to build on this and we have already had talks with some of the big name world champions from the US and they have indicated that they would come to Ireland to fight Henry so that's what we're looking at for down the road. That's all for the future though, the only thing Henry is looking at now is winning that WBF world title against Cotena and that will open the doors to even bigger fights and bigger nights."



Another man looking ahead to bigger fights and bigger nights is unbeaten Dublin featherweight Patrick "The Punisher" Hyland who will be bidding to extend his perfect record to 24 and 0 in Castlebar with an international opponent expected to be confirmed shortly. The Tallaght native is fresh from wining the WBF Featherweight title in Dublin last month with an impressive shutout points win over Frenchman Philippe Frenois.

"I was delighted with my performance against Frenois and it was great to get 12 rounds in the bag against a good, tough opponent," said Hyland. "He had only been beaten before by some good names but I found it quite comfortable in there against him and he admitted to me afterward that I hurt him with both hands and said that in the end he was just happy to last the distance so I took that as a nice compliment. I know I belong at European and World level and that's what I want to prove from here on in."

A second Mayo man getting a title opportunity on the undercard will be Westport's Finbarr "The Rock" Eade who takes on Mickey Coveney in an Irish Super Featherweight title fight. Eade is unbeaten in six pro fights but will be taking on by far his toughest challenge to date when he takes on London based southpaw, Coveney.

"It will be a big step up for me but I've nothing to lose and it's a huge opportunity to get to fight for an Irish title so close to home," said Eade. "Coveney is an excellent fighter, he's not a typical southpaw, he's short and aggressive and likes to stand there and have a fight so I'm sure it should make for a great fight. He put in a great effort against Patrick Hyland when he challenged for the featherweight title but he's been up at super featherweight since then so maybe he feels more comfortable there. My goal this year was to get an Irish title fight so I'm delighted now that my chance has come and I know I'll have great support on the night."

Another clash featuring plenty of local interest on the undercard will be an all Mayo affair with Michael Sweeney and John Waldron meeting in an eagerly awaited Light Heavyweight bout. Both are coming off Irish title defeats with Sweeney having lost out on a close points decision for the Irish Cruiserweight title in March while Waldron was stopped by Ciaran Healy in the first defence of his Irish Light Heavyweight title in Castlebar last November.

"This is a fight that's been talked about in Mayo for years now," said Sweeney "It was supposed to happen a few times in the amateurs and then when we went professional but for whatever reason it's never actually happened so I'm delighted it's happening now. It's a fight I've always wanted and it's a great fight for Mayo and the West in general because although we're both Mayo men originally I'm based in Galway and John lives in Roscommon now so I'm sure there will a huge interest across Connaught in the fight."

The winner will force themselves to the head of a queue for a shot at the Irish Light Heavyweight title and Waldron is determined that Sweeney will prove a stepping stone en route to regaining his old belt. "I'm desperate to make up for my last performance in Castlebar, everyone that knows me knows that wasn't the real me in the ring that night.

"If I'm honest I took the fight lightly and I ended up losing the weight too quickly on the last week and it left me drained in the ring. Winning the Irish title maybe made me a little complacent but that's gone now and if Michael Sweeney thinks he's getting in the ring with the same John Waldron who lost the Irish title then he's in for a big shock. Once I win this fight then I want to get Healy back in the ring and reverse that result and get the Irish title back."

Tickets for next months event priced from €30, €40, €70 and €100 are on sale from the Royal Theatre Box Office on 0818 719 300, Ticketmaster.ie / 0818 719300 and the boxers on the bill.

July 11, 2011