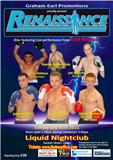 With the rematch against Michael Katsidis firmly on hold for the foreseeable future, Graham Earl is keeping busy by promoting his third event of the year, 'Renaissance', which will take place in his home town of Luton on Sunday 31st July.

Heading up the card at the 'Renaissance' event are a pair of Earl's prodigies, Stevenage's Terry Holmes and Belfast's Joe Hillerby.

Terry Holmes has proved pretty useful on his three previous outings, his last against Jason Nesbitt at York Hall in May, is a fine example of the Stevenage teenager's battling spirit

Holmes started strong and took the fight to the much more experienced Nesbitt. Each attack by him was met with strong resistance, Nesbitt countered with precision forcing Holmes to rethink his fight plan. It was a close round but Holmes had done the better work to earn the points.

Round two see Nesbitt take a leaf out of Holmes' book, by starting fast and taking the fight to the Stevenage man. This worked to Holmes' favour, Holmes is a classy boxer and Nesbitt's new tactics allowed him to turn on the style. The later half of the round was all Holmes who plain boxed Nesbitt's head off.

Round three and four produced more of the same, with Holmes utilising his superior boxing skills to easily secure the rounds, and the bout as the referee declared Holmes victorious by a shutout 40-36 points margin.



Belfast's big hitting Joe Hillerby, will also be getting his fourth outing. Hillerby has also made quite an impact since turning pro in October last year. No surprise really, after all he's an all action heavy hitter with a knockout finish, as proved on his debut against Gavin Putney, which lasted just 43 seconds!

His second fight, against tough battler Ryan Clark, went the full distance and proved to be one of the most exciting action packed fights of the night at Graham's excellent 'Capital Punishment' event back in January.

Hillerby's third bout, against last minute replacement Bheki Moyo - and I do mean last minute as Moyo took the bout with less than ninety minutes notice after the original opponent failed to show - also went the distance, although it did look like the 'Belfast Banger' may have been showing his appreciation, for the game Earl's Court based South African stepping in to save the fight, as it looked like he could have stopped Moyo on a couple of occasions but pulled back.

Joining Terry Holmes and Joe Hillerby on the show is Luton based Floridian Emmanuel 'Manny' Oshundrinde, who will be looking to get his career on track, following his loss, due to retirement after injuring his hand, to Tichfield's Danny Couzens back in May.

On the 31st Oshunrinde, who is coached by Barry Smith at the TRAD TKO Boxing Gym in London, will be facing Jahmaine Smyle for the second time in his fledgling career.

Their first meeting, at the magnificent 'Capital Punishment' event in January, had a highly contentious finish which see Oshunrinde robbed of his first win on British soil, when the referee declared the bout a technical draw and not the clear first round stoppage finish it was, following the fight being stopped due to a serious cut over Smyle's right eye.

'Renaissance' will also feature the debut of three of Graham Earl's newest signings, Luton's James Smith, Hatfield's Tom Little and Donegal's Danny Mulhern.

Tickets, priced £30, for the Graham Earl Promoted 'Renaissance' event at Liquid Nightclub, Gordon Street, Luton on Sunday July 31st 2011 are available on-line at www.tkoboxoffice.com