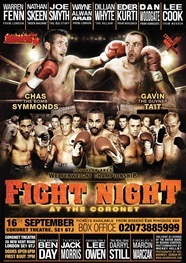 London boxing promoter Mickey Helliet is bringing the original 'Fight Night' back home to one of the capital's former hotbeds of professional boxing, the Elephant and Castle. He is launching the 'Fight Night at The Coronet' series, under his Hellraiser Promotions banner, starting on September 16th.

Set against the urban landscape of the Elephant & Castle in London's SE1, the Coronet Theatre will play host to a night of championship boxing inside the grand scale structure of what was once the Old Elephant Theatre. Formerly a boxing Mecca, the area of Elephant and Castle is steeped in boxing tradition with a long list of pugilistic natives hailing from the area, including the late great Sir Henry Cooper. Close in proximity to the famous 'Thomas A Beckett' pub, Hellraiser Promotions' 'Fight Night at the Coronet' will return the area to the iconic status it once enjoyed

Top of the bill is a contest for the vacant Southern Area title between Croydon's Chas 'The Bomb' Symonds who will be taking on Gavin 'The Guv'nor' Tait from Sheerness, in what has all the makings of a classic small hall battle. The listed 10 bout undercard is packed with an array of exciting fighters who form the next generation of boxing talent to emerge from the capital city.

Mickey Helliet's Hellraiser Promotions are at the cutting edge of the London fight scene. It is possible that the reason for this success is at least in part due to Helliet's experience as matchmaker and licensed promoter for the Mayfair Sporting Club and National Sporting Club at the Café Royal. Now a respected matchmaker and the busiest agent, providing boxers to all the UK and Ireland's leading promoters, Helliet puts together exciting, entertaining events which appeal to a new generation of savvy young professionals, as well as to the capital's more seasoned fight fans. His shows regularly include a rare feature whereby up and coming fighters are pitted against each other.



"What makes boxing beautiful to me is the admirable characteristics that the sport brings out in the participants," said Helliet. "By matching fights evenly, we keep the audience on the edge of their seats. It's a bit like going to see a movie where you can't predict the ending. Legends are written during these contests, unforgettable stories where the script is written as the events unfurl in the intensity of live sporting competition."

Helliet added: "The winners advance a step closer to the big time, the losers return to their gyms, disenchanted, to re-evaluate their careers. If they can't fight then I don't manage them and they certainly won't be boxing on any of my events. There have been some really disappointing high profile fights elsewhere recently. That hasn't happened at Hellraiser and that could be why our following is growing. After every show we have a big response, a flood of enquiries about forthcoming events."

This refreshing approach certainly seems to be working as Helliet's events have drawn unprecedented crowds and lately the attention of a number of broadcasting networks with whom he is now in negotiation. Mickey is adamant however that his approach won't change, even after he has a deal in place with a TV network


CHAS 'THE BOMB' SYMONDS

Chas Symonds was given his nickname of 'The Bomb' due to his aggressive, no-nonsense, dynamite punching style. He is a former Southern Area Welterweight Champion and holds knock-out victories over a number of highly rated opponents. When asked about his forthcoming title fight he said, "I've seen Gavin box and he's got fast hands, but there's no way he can match me for boxing and heart. He's in for a shock when he feels my power. Believe me nothing is going to stop me from taking the title back to Croydon. Everyone knows I can fight and now I've been working on my boxing more. I'm going to put it all together when it matters on the night."


GAVIN 'THE GUV'NOR' TAIT

Gavin 'The Guv'nor' Tait has earned his stripes in the pro boxing game the hard way, often travelling to fight some of the country's leading lights in their own back yards at short notice. He is currently on the best run of his career. He has won five of his last seven contests with one of the only two losses coming against highly-rated former world amateur champion Frankie Gavin. Tait stated, "I have waited for an opportunity like this to come all my boxing life. Now I have it, there's no way I'm going to let it go begging. This is by far the biggest night of my career and I can't wait to get in there. I've not had the luxury of being spoon-fed handpicked opponents but that doesn't matter. A win here could lead towards a crack at a major title. I couldn't be any more motivated to win. People are going to see the very best of Gavin Tait on September 16th."

The Hellraiser Promotions 'Fight Night at the Coronet' takes place on Friday September 16th at The Coronet Theatre, Elephant & Castle, SE1 6TJ. Tickets are £30 Standard or £60 Ringside and are available from 020 7388 5999. Doors open 6.00pm. First Bell 7.00pm.

August 24, 2011