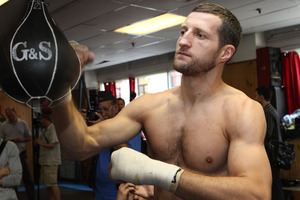 Carl Froch workout 1

Jerry Glick reporting: Carl Froch looked as fit as any fighter that this reporter has seen. He was trim with no visible fat. He worked out for the media but as compared with other similar sessions, with other top pros, he did as little as possible, but one thing shined through, he was fast and punched with combinations that were straight and hard when he shadow boxed in the ring at Mendez Boxing on 5th Avenue in Midtown Manhattan on Tuesday as he prepares to take the next step towards to what he believes will be a tournament win when he steps into the ring on Saturday at Boardwalk Hall in AC. He hit the speed bag, jumped rope, and shadow boxed. He didn't reveal much other than he is fast and can use his legs to his advantage. Going in against 42 year old legs attached to Glen "The Road Warrior" Johnson, it may be enough. The guess here is that it will be enough.

WBC Super-Middleweight Champ Carl Froch is as confidant as any fighter to ever lace on gloves. No difference from the fighter who I first met at the start of the Super-Six Tournament back in 2009; cocky and boastful. When someone talks that way it usually turns this reporter off, but for some reason it doesn't. It didn't when a young brash heavyweight from Louisville, Kentucky some fifty years ago said "I am the greatest". Muhammad Ali said that he was great, Froch says the same thing. After initially turning everyone off, Ali's rants were a source of great entertainment and copy. The Brit, Froch, may not have the charm of an Ali, but he has made good on his boasts so far. That is to say, so far so good.

Johnson was recently added to the tourney as a replacement for Mikkel Kessler who suffered an injured eye, defeated another late sub, Allen Green to qualify for the opportunity to fight Froch in the semi-final for a chance to face Andre Ward for all the marbles.

The Super-Six has had its troubles; first Jermain Taylor dropped out after suffering his second KO loss in a row (KOd by Arthur Abraham in 12, KOd by Froch also in 12). Then Andre Dirrell, after winning by DQ over Abraham and taking a knockout blow while down, called it quits, followed by the early favorite, Mikkel Kessler, dropping out claiming the aforementioned injury, but Froch has no qualms, the tourney has been good for him and he is happy that it was a round robin format instead of the usual elimination. He saw dollar signs with the guarantee that he will get three good paydays against the best at 168 pounds in a round robin set up.

"It was nice to know that you had three fights guaranteed, win, lose, or draw," said Froch who comes off as a highly intelligent, pragmatic 33 year old.

With most, if not all, boxing scribes and experts picking Froch to win he still manages to keep his focus. "I'm the consummate professional," said the WBC 168 pound ruler and Super Six semi-finalist. "You have to take it lightly. After the Kessler fight (a loss) it was like a kick in the ass for me. At the world class elite level, you can't afford to miss anything because there's one percent between winning and losing."

He added that since the Kessler surprise he takes nothing for granted. "There's no room for complacency for a top level athlete and that's what I am."

He acknowledged that he will be facing a tough strong man, "Who's got a chance of his lifetime."

He admitted that he fights with a take no prisoners attitude. If he gets fouled Froch said that he will answer in kind; "If he hits me in the back of the head, I'll hit him on the back of the head, if he hits me low, I'll hit him low. I don't expect any dirty tactics from Johnson, but if there are we'll sought them out in the ring."

There is always the issue of being in a no-win situation when a younger man faces a fighter who is at such an advanced age as is the 42 year old, but still affective Road Warrior, "I don't think so," said the man known as The Cobra. "Because at the end of the day he's been in there with the best of them; he's had a couple of close fights, a loss to Chad Dawson who a lot of people thought he won. So people know what he's about. The important thing for me is to win the fight by any means necessary."

He makes no prediction, just that he will get his "W", "I don't need to go out there and stop Johnson, he's a very tough strong old man who deserves respect. I think if a stoppage happens I think it will come by the referee jumping in see too many overwhelming punches landing cleanly time after time the referee might see enough."

He said that he might be looking at the veteran's body, "I reckon that the body is a suspect area because he's an old boy. He probably super fit, super tough, taking this fight deadly seriously. The body might not be an issue to him."

With Froch facing a 42 year old it almost begs the question of his thoughts on Bernard Hopkins victory over a former Froch victim, Jean Pascal.

"I thought he did well," said Froch, "but I thought he was there to be beaten to be honest. He looked like he came apart when he was under attack and under pressure."

He added that Pascal just couldn't maintain the pressure or work rate to win the fight.

Froch believes that the Pascal who lost to Hopkins was a different fighter than the one who lost to him. "If you watch the Pascal fight between myself and him and you count how many punches he threw and his work rate and consistency and he determination it was toe to toe non-stop for most of the fight."

If self belief was all that one needed Froch can't lose. For sure he believes that, in fact he said, when assessing Johnson's style, "He's made for me."

***PUNCHLINES***

**IT'S ENGLAND OR BUSTED**

"I wanted to fight in England, to be honest." said Froch. "A ten thousand seat arena in Nottingham. Make a real big deal of the tournament, a big deal of the show but ShowTime wanted it in America. Which is fair enough, it's an American Tournament. They said from the start that the semi-final and the final would be in America. So here we are its in Atlantic City. Unfortunately it's in the smallest venue possible in the middle of nowhere. They call the shots."

**THE BROTHERS FROCH**

Froch's younger brother Wayne traveled to the US with his brother to help him prepare and took a few minutes to give this reporter a little insight into Froch's younger years.

"We'd always got in trouble, the three of us," said Wayne referring to growing up with Carl and another brother, Lee Froch. "We grew up in Nottingham. My mom ran pubs. My mom and dad split up when I was young."

Nobody screwed with the Froch brothers.