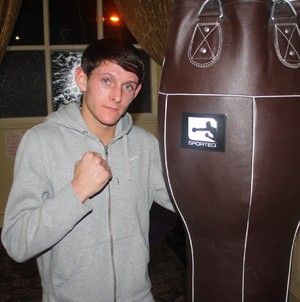 Gavin McDonnell

By Andrew Wake: Gavin McDonnell admits that if it wasn't for the title winning exploits of his twin brother he would never have regained his love of boxing.

25-year-old McDonnell boxed as an amateur but gave the sport up in his late teens and it wasn't until younger sibling Jamie (nine minutes his junior) was crowned British, Commonwealth and European champion last year that he thought he should give the sweet science another go.

"If our kid hadn't have been doing so well I don't think I'd have got back into it," Gavin admitted. "I owe it all to him."

After several years away from the gym, Gavin feels like he's playing catch up. Thus far he's won all three of his pro contests, but he believes if he'd not have taken a self-imposed hiatus he could have been at title standard by now.

"I think I could have been at a decent level if I'd have stuck at it," he said. "Maybe not the level Jamie has got to, but I'd have definitely achieved good things.

"The way I see it is me and Jamie started off with the same ability and we have the same genes so when I look at what he's won, I know I can win titles as well.

"Jamie wasn't born with owt more than me, it's just that he's gritted it out and put the work in but I've stated pressing on now.

"I say to him 'I'm the same as you. We're both the same'. It's just that he stuck at boxing when I didn't so he's got seven or eight years more experience than me."

And a move into title class of his own is expected next year.

Gavin boxes his last four-rounder against Scotland's Ryan McNicol in Doncaster on Friday night and thinks getting a couple more fights under his belt will put him in good stead for championship level action.

"With me only being at a lighter weight title fights can be arranged a bit easier on fewer fights," he stated. "Our kid had a British title after nine so another couple more for me and I should be ready for the Central Area title.

"I wouldn't rush into it and I wouldn't taka a fight I felt was out of my depth but I genuinely believe I can win these titles.

"You've got to believe in yourself and I believe I'll be British champion. When I see Jamie with his belts I think to myself 'one day that'll be me'. It all comes with time."