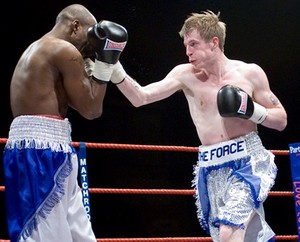 James Flinn

By Andrew Wake: Few people want Tyson Fury to win his fight with Neven Pajkic inside the opening rounds than unbeaten Coventry welterweight James Flinn.

The 29-year-old challenges Leeds' Adil Anwar for the vacant English title in the chief supporting contest and hopes an early night for Fury will enhance his chances of starring on Channel 5.

"I'm hoping Tyson Fury's fight goes early because there's that many people in Coventry that are mad for it to be shown," he said.

"I've been on Sky before but quite a few people around where I live are talking about this and a few of the parents at my kids' school are talking to me because they know I'm a boxer."

Originally Flinn was scheduled to fight Nottingham's Adnan Amar for the title but things changed early this week when the Ingle-trained boxer pulled out and was forced to give up the crown he'd held since 2008.

In stepped the aforementioned Anwar and Flinn believes he's now got an even tougher proposition on his hands.

"I think this will be a better fight than the Amar one," he told SecondsOut. "It'll be a tougher fight for definite.

"From what I've seen of Anwar he likes to box on the back foot. He looks to have a bit of power and he's got a similar kind of style to Amar but I think he likes to have a go a bit more."

Flinn, 10 – 0 – 1 (2 KOs), says that he literally cannot afford to lose this fight. When the chance to further his career with an English title fight presented itself, the Midlander jumped at it despite the financial terms not being in his favour.

"For this fight I'm getting paid in ticket sales so whatever I sell makes my wages and I was never going to sell that many for a fight all the way up in Manchester so I'm basically boxing for nothing," he explained.

"But I'm not prepared to leave that show with nothing. I intend to take that title because it's my purse, that title is what I'm getting paid in."

And if that's not pressure enough, his two biggest fans will be most disappointed if he doesn't emerge victorious.

"My kids (a daughter aged 8 and a son aged 5) are mad for the belt and they won't be happy if I don't bring it home with me," Flinn stated.

"I've won the British Masters twice so they have one belt each and it's going to be a fight as to who gets to keep this one."

Channel 5's coverage of the Manchester card on Saturday starts at 21.45pm.