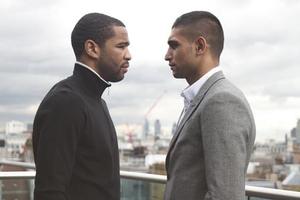 Khan And Peterson Face To Face (Stefan Baisden)

By Ryan Waugh: Amir Khan will defend both his WBA and IBF light-welterweight titles when he clashes with Lamont Havoc Peterson in Washington DC on December the 10th.

The announcement earlier today at the Mayfair hotel in central London will be Khan's sixth title defence, he said: "I want to fight the best before I move up in weight and I am more than willing to go into Peterson's back yard to show why I am the champion."

As always, confidence was beaming from the Bolton man who as a true champion isn't afraid to challenge any of the top contenders anywhere in the world or at any given opportunity. With the potential fight against Timothy Bradley falling through he has a lot of admiration for Peterson for taking the duel.

Khan, who at only 24-years-old and just reaching his boxing peak said: "I have a lot of respect for Peterson for taking this fight on as everyone else refused. I wanted to fight Erik Morales and also Timothy Bradley but they didn't want to fight me.

"It could be the fight of the year again as you have two fighters who are more than capable of producing everything that a great fight craves.

"He has had a harsh upbringing and a tough life and this will be one of my hardest fights to date, I never underestimate any fighter especially Peterson as he has a great heart.



"With me being the champion and him being the challenger, he is going to be very hungry to win this title especially in front of his home crowd. However, I've fought away from home many times before and it's normal for me to do so once more."

How things have swiftly developed from that painful night for King Khan on the 6th of September 2008. The Lancashire man was blown away by a vicious knockout from Columbian, Breidis Prescott in the first round.

However, this has seemed to be a blessing in disguise as he has never looked back with some excellent victories along the way over Paul Malignaggi, Marcos Maidana, Paul McCloskey and Zab Judah.

The fight will be screened live on HBO's World Championship Boxing channel in the United States and it will be the first time since 1993 that HBO will be back in the capital.

The fight will also be screened to 150 countries worldwide and the head of Golden Boys Promotions, Richard Schaefer is expecting the 12,000 capacity Washington Convention Centre, to be a sell out.

October 3, 2011