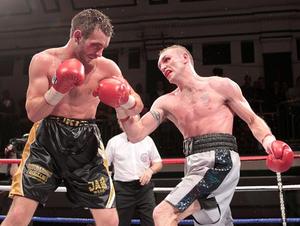 Lynes sets Purdy up for a left hand (Lawrence Lustig)

By Andrew Wake: Hornchurch's Colin Lynes rolled back the years to shock Lee Purdy and take the British welterweight crown at York Hall in Bethnal Green on Wednesday night (November 9).

Just weeks shy of his 34th birthday the veteran brilliantly outboxed the younger champion before taking a wide and deserved majority decision after 12 action packed rounds.

Going into the bout many were quick to write off Lynes prospects, believing a combination of Purdy's speed and youthfulness would be too much for the former British, European and IBO light-welterweight titlist to deal with.

Indeed, after his crushing defeat to Ajose Olusegun last year, questions were asked about how long the Essex man would be able to continue.

But from the opening bell he was the one that looked like the fresher, younger fighter. He made Purdy miss continually in the early rounds before peppering him with a ramrod jab.

The fourth was a particularly big session for Lynes as he rocked the head back of the champion on more than one occasion.

In fact it wasn't until the fifth that Purdy, who won the belt by halting Craig Watson in April, began to get himself into things. Finally, he was able to get a route past Lynes' stick and dig to the torso.

Down the stretch Lynes' smooth back foot boxing slipped a little further and he was made to eat some heavy right hands, but he gritted his teeth and dealt out much better punishment of his own.

And in the tenth he managed to send a wilting Purdy to the canvas with an accurate, if not hurtful, counter shot.

Purdy battled hard in the final two frames and benefited somewhat by Lynes dropping his hands but by that time the Hornchurch man's lead on the scorecards was insurmountable. Well, on too of them anyway.




Lynes' performance epitomised a boxer at the top of his game, but sadly the talking point of the evening will undoubtedly be the ridiculous scorecard of Ian-John Lewis, who say it a draw at 114-114.

Thankfully, though, he was overruled by the more accurate vision of Richie Davies and Mark Green who had it 119 – 110 and 117 – 112 respectively.

Purdy had hoped that a stellar showing would put him in line for a return with Commonwealth champion Denton Vassell. However, this defeat will likely push him back in the pecking order.

That opportunity could now go to Lynes, but SecondsOut has been informed this week that Junior Witter and the winner of this Saturday's English title clash between James Flinn and Adil Anwar could be in the picture for a mandatory position.

Birmingham's Frankie Gavin is supposed to be in line for an eliminator for the crown against Witter but given that he's now based in the same camp as Lynes, it's probable that another route will be explored by the man they call "Funtime".

November 8, 2011